Quality Tube Tools For An "I Need It Yesterday" World.™
As the original tube tool company since 1892, you can count on Elliott Tool Technologies for high-quality products that are available when you need them.
"In the competitive environment we are in, Metalforms is always looking for ways to reduce our costs, improve our quality, and improve our safety…"
"They [Elliott] have always strived to have on-time shipments, great service, and maintain 100% stocking levels…"
"Elliott's service has always been good and reliable…"
"I could only wish the majority of my supplier base could improve to Elliott's level of customer satisfaction…"
Exceptional Customer Service
Elliott Tool strives to be the industry's leading supplier of Quality tube expander tools for an "I need it yesterday" world. With 24 hour support, our team is committed to providing exceptional customer service, emphasizing on-time shipping and reliable stock availability.
High Quality Tools
You can rely on Elliott to provide tools that are tougher than the job and are the best in the industry. To achieve this goal, we utilize continuous improvement, Six Sigma, and 5-S. Elliott firmly believes the last thing you should have to worry about is the quality of your tools.
Continuous Innovation
With over 125 years of developmental experience, Elliott is committed to producing a quality product that you can be confident in using time after time. From the 24 Series expander to the new Rapid Hawk Hybrid, our team is always looking for new ways to solve industry challenges.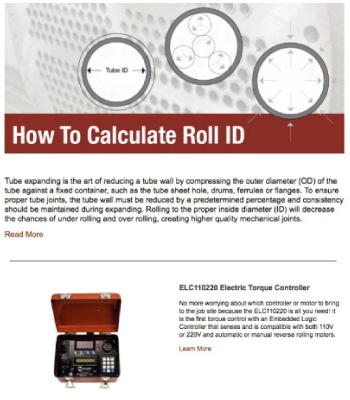 Elliott Tool Newsletters Offer:
Tips & Tricks

Expert Advice

Results Reports

New Product Announcements
Ask The Expert
Do you have a tough application question or would like to learn more about a product? Let us know and we might feature it in our next newsletter.
Submit Here