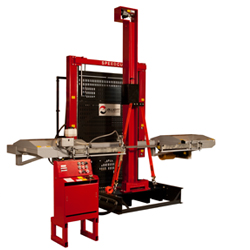 Cut tough jobs
down to size.
Equipped with a Heavy Duty Cone Drive® and the highly productive Automatic Cutting Force Control, Elliott's SpeedCut is the easy way to quickly cut through tube bundles and shells in a single pass.
The SpeedCut is well-engineered to withstand tough tube bundle cutting applications. The unit comes with a rugged Baldor® Blade Drive Motor as well as a Heavy Duty Cone Drive® with "Double Enveloping"® Gearset for 3 times more contact between teeth and worm than standard gearsets. This provides extra torque with no increase in gear size.
The Automatic Cutting Force Control is a standard feature which optimizes cutting speed and increases productivity without sacrificing blade life. The cutting cross section of a vessel is smaller at the top and bottom because there are fewer tubes per row. During these portions of the cutting cycle, the saw feed automatically pauses while maintaining consistent cutting force – without sacrificing blade life and without the need for a constant attendant.
The SpeedCut Tube Bundle Cutter includes:
Machine Leveling Bolts – easy setup.
Tube Sheet Support Table – safely secure the tube sheet.
MQL (Minimum Quantity Lubricant) Mist Lubrication System – increase blade life & minimize disposal costs.
Maintenance Lockout – for safety & protection.
Overload and under voltage protection – for safety & protection.
2-Year Warranty
Spares & Accessories:
Bi-Metal Bandsaw Blades: Long-life, high-quality blades for a variety of tough metals. Choose the blade most suitable for your application, using Elliott's Blade Selection Tool here.
Hour Meter: Allows for more precisely scheduled maintenance which lowers operating costs.
Bundle Support Table & Rachet Strap: Helps to secure the bundle during cutting operation.
Clamp System: Allows for improved stability of the tube sheet during the sawing process and an added measure of safety for the crew and the machine.
MQL Mist Lubricant
Recommended Spares Kit: Includes spare maintenance parts for quick replacement and no down time.
Features & Benefits:
The Hydraulic Feed Rate Control combined with the Automatic Cutting Force Control optimizes saw feed while maintaining consistent cutting force.
The powerful Baldor® blade drive motor quickly cuts through a wide variety of tough materials.
Heavy Duty Cone Drive® gearbox with "Double Enveloping"® gearset for increased torque.
Low voltage, front mounted operator controls easily accessible to operator.
Remote Pedestal Control Console for added safety and convenience.
English or Spanish Control Panel Legend Plates (other languages available upon request).
Convenient and easy to read digital bandspeed display.
Three control systems and Blade Break/Stall Proximity Switch enable safe unattended operation.
Overload and undervoltage protection.
Maintenance Lockout for operator safety and protection during maintenance.
MQL Mist Lubrication System to minimize disposal costs and prolong blade life.
Long-life, high quality Bi-Metal Bandsaw Blade.
Rotary Blade Brush cleans and extends blade life.
For a quote or more information Contact Us