SpeedCut
Tube Bundle Cutter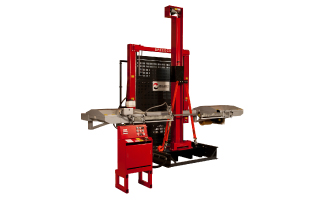 SpeedCut78
SpeedCut98
Blade Motor
7.5 HP
(5.6kW)
10 HP
(7.4kW)
Hydraulic Motor
1 HP
(.75kW)
1 HP
(.75kW)
Hydraulic Capacity
10 gal
10 gal
Power Requirement
3 Phase- 50/60 Hz
(Select from 208V – 600V)
3 Phase- 50/60 Hz
(Select from 208V – 600V)
SpeedCut78
SpeedCut98
Cutting Capacity
(round)
78.5″
(2m)
98.5″
(2.5m)
Cutting Capacity
(rectangular)
78.5″ (2m) height
85″ (2.16m) width
98.5″ (2.5m) height
98.5″ (2.5m) width
Cutting Depth/Throat
33.75″ (857mm)
33.75″ (857mm)
Blade Speed
(typical speed)
50 -275 FPM Infinitely Variable
(15 – 84mpm)
50 -275 FPM Infinitely Variable
(15 – 84mpm)
Blade Size
1.5″ x 0.05″ x 375″
(38mm x 1mm 9.8m)
1.5″ x 0.05″ x 402″
(38mm x 1mm 10.2m)
Typical Bundle Cutting Time
20 – 60 minutes
20 – 60 minutes
SpeedCut78
SpeedCut98
Working Area
168″ (4.3m) height
178″ (4.5m) width
87″ (2.2m) depth
213″ (5.4m) height
192″ (4.9m) width
87″ (2.2m) depth
Minimum Height
117″ (3.0m)
134″ (3.4m)
Bandwheels
36″ (914mm) cast iron
36″ (914mm) cast iron
Weight
7,500 lbs. (3,402Kg)
8,500 lbs. (3,856Kg)
Shipping Dimensions
(Crated)
130″ (3.3m) height
186″ (4.7m) width
100″ (2.5m) depth
143″ (3.6m) height
199″ (5.1m) width
100″ (2.5m) depth
Shipping Weight
(Crated)*
9,500 lbs. (4,309Kg)
10,500 lbs. (4,763Kg)
Bundle Support Table
(Uncrated)
20″ (508mm) height
33″ (838mm) width
36″ (914mm) depth
20″ (508mm) height
33″ (838mm) width
36″ (914mm) depth
Support Table Weight
(Uncrated)
225 lbs (102kg)
225 lbs (102kg)
*Crate weight is based on an average unit. The final weight may vary.
Bi-Metal Bandsaw Blades:
Long-life, high quality blades for most materials, including copper, stainless steel, and exotic materials.
Clamp System:
Allows for improved stability of the tube sheet during the sawing process and an added measure of safety for the crew and the machine.
Bundle Support Table:
Provides support for the end of the bundle while the other side is cut.
MQL System Lubricant:
Specially formulated for use with the SpeedCut.
Recommended Spares Kit:
Includes spare maintenance parts for quick replacement and no downtime. Includes: Blade Brushes, Drive Belt, Gear Oil, Bearings, Fuses, Roller Axles, and Roller Supports.
SpeedCut78
SpeedCut98
Bi-Metal Bandsaw Blades*
SCT78B1
SCT78B2
SCT78B3
SCT98B1
SCT98B2
SCT98B3
MQL Lubricant (1 gal)
SCT100318-028
SCT100318-028
Bundle Support Table
SCTBT
SCTBT
Clamp System
SCTMC
SCTMC
Recommended Spares Kit
SCT155291
SCT155291