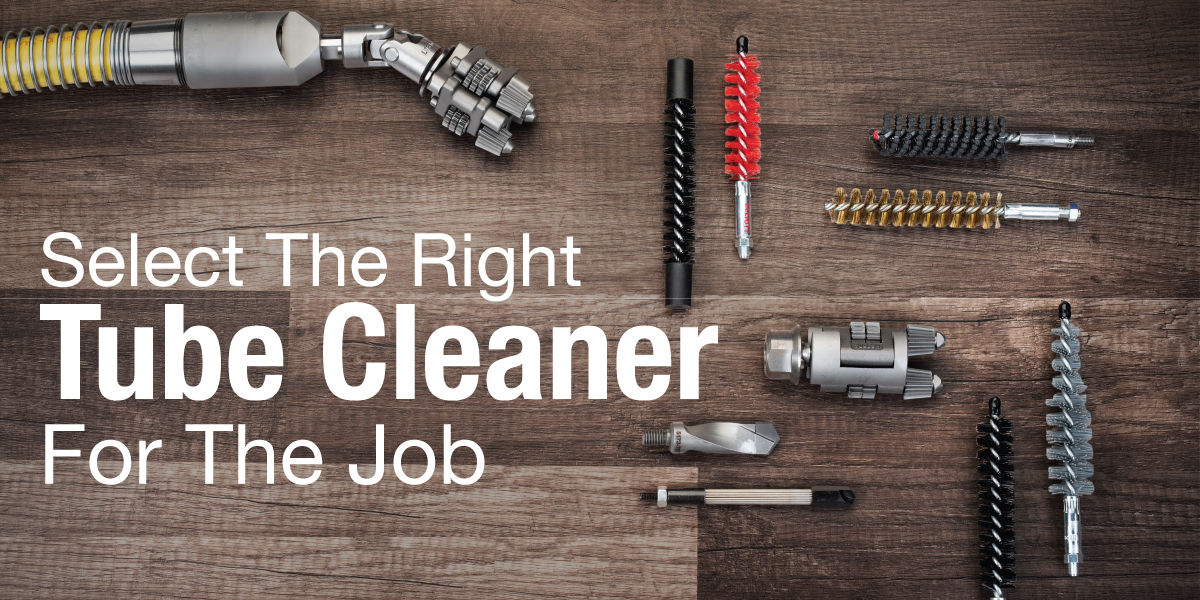 Cleaning tubes increases energy efficiency. Every tubed vessel (ex: boilers, heat exchangers, condensers, chillers, etc.) requires the surface of the tubes to be clean and scale-free to function efficiently. If deposits or scale are present, the flow through the vessel and the efficiency of the vessel decreases. Debris will force the vessel to overcompensate for the decrease in energy production, causing an increase in pump horsepower and flows of fuel. In addition to efficiency loss, some deposits are corrosive in nature and will eventually cause damage to the tube walls. Deposits and scale (silicates, sulphates, sulphites, carbonates, calcium, organic growths, etc.) all have the potential to cause tube wall damage and/or decrease efficiency.
In order to properly maintain heat exchangers and boilers, the right cleaning tools must be selected to clean the tubes. Choosing the correct cleaning tool depends on many different factors:
Tube Dimensions
Tube Material
Tube U-Bend or Curve
Deposit Type
Thickness of the Deposit
Evenness of the Deposit
& Others
Additionally, there are several styles of cleaning tools and heads ranging from brushes to air-powered motors to cableless cleaners. All of these variables, in addition to the wide range of conditions in which cleaners operate, increases the difficulty of selecting a cleaning tool. No two vessels will have the same type and thickness of deposits to remove. Therefore, each tube cleaning job should be considered and treated individually with its own solution.
Due to the variety of cleaning methods available, a couple issues may occur when cleaning tubes. The first issue may arise if the wrong tool is selected for the job. Similar to no two vessels being alike, no two tube cleaners may work for the same job. This makes it very important to communicate details about the job to find the right tube cleaner, brush, or head. The second issue involves incorrect usage of a product. Each tube cleaning method is different based upon the application. Thus, it is important to be well informed on how to use the tool properly before cleaning.
As a general rule, drills are most often used for cleaning of hard powder, hard deposit, and rock solid deposits. Occasionally, they can also be used for scale or soft deposits of medium or heavy thickness. For lighter deposits or for more organic, soft deposits, other cleaning tools (i.e. brushes or descaling tools) would be more economical and efficient.
In order to make the right decision, make sure you are well informed on your vessel and the equipment you will be using. Refer to the following tables for more information on the different tube cleaners, brushes, and heads available.
Jumbo Jiffy Gun
Tube Size: 3/8″ – 1-1/4″ (9.5 – 31.8mm) OD
Tube Section: Straight
Deposit: Soft, Gummy, Organic
Thickness: Light to Medium
Flush: Wet
Soot Buster
Tube Size: 1-3/4″ – 3″ (44.5 – 76.2mm) OD
Tube Section: Straight
Deposit: Soft (Soot)
Thickness: Light to Medium
Flush: Dry
Roto-Jet
Tube Size: 0.312″ – 2″ (7.9 – 50.8mm) ID
Tube Section: Straight or Curved
Deposit: Soft, Gummy, Organic
Thickness: Light to Medium
Flush: Wet or Dry
Die-Hard™
Tube Size: 3/4″ & 1″ (19.1 – 25.4mm) OD
Tube Section: Straight
Deposit: Soft, Gummy, Organic
Thickness: Light to Medium
Flush: Wet
5224XL & 5125 Series
Tube Size: 3/8″ – 2″ (9.5 – 50.0mm) OD
Tube Section: Straight
Deposit: Soft, Gummy, Organic, Hard Powder, Rock Solid
Thickness: Light to Heavy
Flush: Wet or Dry
Air Turbine Style Tube Cleaners
Tube Size: 0.495″ – 13.225″ (12.57 – 335.9mm) ID
Tube Section: Straight & Curved
Deposit: Soft, Gummy, Organic, Hard Powder, Rock Solid
Thickness: Light to Heavy
Flush: Dry
Gas Line Renewal
Pipe Size: 0.750″ – 1.500" (19.05 – 38.10mm)
Tube Section: Straight
Deposit: Gummy, Organic, & Hard Powder
Thickness: Light to Medium
Flush: Dry
Aluminum Siphon Tube Cleaner
Tube Size: 2.875" – 4.750" (73.0 – 12.65mm) ID
Tube Section: Curved
Deposit: Hard Powder, Rock Solid
Thickness: Heavy
Flush: Dry
Pipe Rattling Equipment
Pipe Size: 2.375" – 20.00 (60.30 – 508.00mm) OD
Tube Section: Straight
Deposit: Hard Powder, Rock Solid
Thickness: Medium to Heavy
Flush: Dry
ET Series
Pipe Size: 3/4" – 5-7/8″ (19.05 – 149.23mm) OD
Tube Section: Straight
Deposit: Hard Powder, Rock Solid
Thickness: Medium to Heavy
Flush: Dry