Mechanical Tube Plug Specifications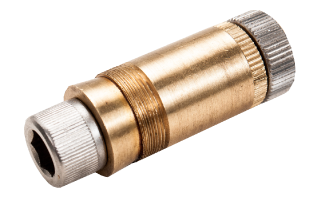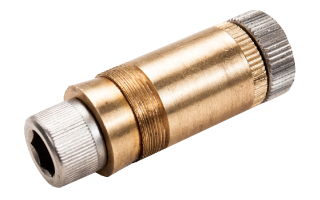 0.410" to 1.000″
(10.4 to 25.4mm)
Mechanical Plug Materials Available
Brass
Carbon Steel
Stainless Steel
Titanium
Monel
90/10 Cu-Ni
Other materials available upon request
Pressure: Positive sealing in excess of 6,500 PSI (448.2 bar)
Standard Reach: 5″ for 1/4″ and 5/16″ drive, 6-1/2″ for 3/8″ drive.
8830TW Torque Wrench

Use to install the mechanical tube plug into the tube.

One Revolution Tube Cutter

Utilize to puncture the tube to ensure the tube is properly vented.
Required Torque To Set Tube Plug
Plug OD
Brass & Cu-Ni
Carbon Steel
Stainless Steel, Titanium, & Monel
Hex Drive
0.410″ – 0.550″
(10.41 – 13.97mm)
200 in lbs.
(22.5 Nm)
250 in lbs.
(28.2 Nm)
300 in lbs.
(33.9 Nm)
1/4″
0.570″ – 0.710″
(14.48 – 18.03mm)
250 in lbs.
(28.2 Nm)
350 in lbs.
(39.5 Nm)
500 in lbs.
(56.5 Nm)
5/16″
0.730″ – 0.980″
(18.54 – 24.90mm)
350 in lbs.
(39.5 Nm)
450 in lbs.
(50.8 Nm)
600 in lbs.
(67.8 Nm)
3/8″
Mechanical Tube Plug Part Numbers
8830-410-10, 8831-410-10, 8832-410-10, 8833-410-10, 8834-410-10, 8835-410-10, 8830-430-10, 8831-430-10, 8832-430-10, 8833-430-10, 8834-430-10, 8835-430-10, 8830-450-10, 8831-450-10, 8832-450-10, 8833-450-10, 8834-450-10, 8835-450-10, 8830-470-10, 8831-470-10, 8832-470-10, 8833-470-10, 8834-470-10, 8835-470-10, 8830-490-10, 8831-490-10, 8832-490-10, 8833-490-10, 8834-490-10, 8835-490-10, 8830-510-10, 8831-510-10, 8832-510-10, 8833-510-10, 8834-510-10, 8835-510-10, 8830-530-10, 8831-530-10, 8832-530-10, 8833-530-10, 8834-530-10, 8835-530-10, 8830-550-10, 8831-550-10, 8832-550-10, 8833-550-10, 8834-550-10, 8835-550-10, 8830-570-10, 8831-570-10, 8832-570-10, 8833-570-10, 8834-570-10, 8835-570-10, 8830-590-10, 8831-590-10, 8832-590-10, 8833-590-10, 8834-590-10, 8835-590-10, 8830-610-10, 8831-610-10, 8832-610-10, 8833-610-10, 8834-610-10, 8835-610-10, 8830-630-10, 8831-630-10, 8832-630-10, 8833-630-10, 8834-630-10, 8835-630-10, 8830-650-10, 8831-650-10, 8832-650-10, 8833-650-10, 8834-650-10, 8835-650-10, 8830-670-10, 8831-670-10, 8832-670-10, 8833-670-10, 8834-670-10, 8835-670-10, 8830-690-10, 8831-690-10, 8832-690-10, 8833-690-10, 8834-690-10, 8835-690-10, 8830-710-10, 8831-710-10, 8832-710-10, 8833-710-10, 8834-710-10, 8835-710-10, 8830-730-10, 8831-730-10, 8832-730-10, 8833-730-10, 8834-730-10, 8835-730-10, 8830-750-10, 8831-750-10, 8832-750-10, 8833-750-10, 8834-750-10, 8835-750-10, 8830-770-10, 8831-770-10, 8832-770-10, 8833-770-10, 8834-770-10, 8835-770-10, 8830-780-10, 8831-780-10, 8832-780-10, 8833-780-10, 8834-780-10, 8835-780-10, 8830-800-10, 8831-800-10, 8832-800-10, 8833-800-10, 8834-800-10, 8835-800-10, 8830-820-10, 8831-820-10, 8832-820-10, 8833-820-10, 8834-820-10, 8835-820-10, 8830-840-10, 8831-840-10, 8832-840-10, 8833-840-10, 8834-840-10, 8835-840-10, 8830-860-10, 8831-860-10, 8832-860-10, 8833-860-10, 8834-860-10, 8835-860-10, 8830-880-10, 8831-880-10, 8832-880-10, 8833-880-10, 8834-880-10, 8835-880-10, 8830-900-10, 8831-900-10, 8832-900-10, 8833-900-10, 8834-900-10, 8835-900-10, 8830-920-10, 8831-920-10, 8832-920-10, 8833-920-10, 8834-920-10, 8835-920-10, 8830-940-10, 8831-940-10, 8832-940-10, 8833-940-10, 8834-940-10, 8835-940-10, 8830-960-10, 8831-960-10, 8832-960-10, 8833-960-10, 8834-960-10, 8835-960-10, 8830-980-10, 8831-980-10, 8832-980-10, 8833-980-10, 8834-980-10, 8835-980-10