Elliott's All New 850 Style Rolling Motor
The 850-style rolling motor has become a staple across many industries for tube rolling. This push pull style motor exhibits both quality and performance, making it ideal for expanding tubes in chillers and heat exchangers.
Recently, many customers have struggled to find replacement motors, spare parts, and repair services for their existing Airetool fleet.
In an effort to service customers, Elliott developed an 850-style push-pull motor offering the same USA quality and performance you're used to, but with additional features to improve the operators experience.
Consistency
To ensure high quality-tube expansions, the tube wall must be reduced by a predetermined percentage and be consistent with each expansion. Maintaining consistency will reduce the chances for tube leaks and rework later on.
Utilizing torque actuated cams, the ET850 measures torque to provide consistent expansions each time. Reference marks also make it easy to maintain a consistent torque setting from job to job.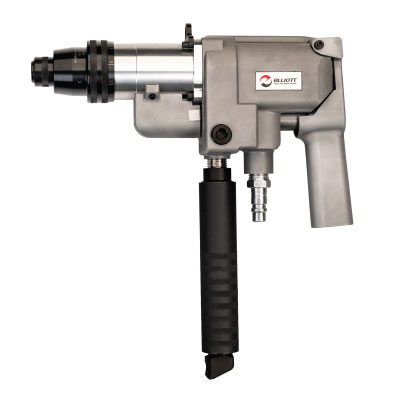 Ergonomics & Productivity
The ease at which operators are able to complete a job can have a large impact on productivity. A heavy, bulky motor may increase fatigue and lead to more downtime, delaying jobs.
Equipped with a multi-position handle, the ET850 allows the operator to hold the motor in three different places, left, right, or underneath. The adjustable muffler port stays where you put it, preventing oil from spraying on the operator while the motor is in use. Lastly, an eye-bolt allows the operator to easily connect the motor to a counterbalance, reducing fatigue.
Compatibility
While buying a new motor may be easier, it may not make sense to replace your entire motor fleet. Now you can easily find spare parts that are truly compatible with the original Airetool® 850 to repair and maintain your existing motors. Additionally, Elliott offers repair services for existing Airetool® motors, saving you time on motor maintenance.
Contact us to find out how Elliott's 850 motor can benefit your team.