24 Series
Heat Exchanger & Condenser Expanders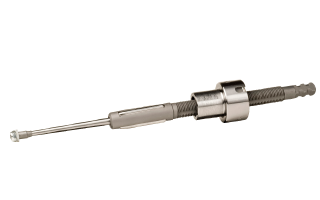 0.500″ to 2.000″
(12.7 – 50.8mm)
Mandrel
Roll Set
Collars
Lubricant
Rolling Motors & Torque Controls
Flush Collar
The standard collar for the 24 Series.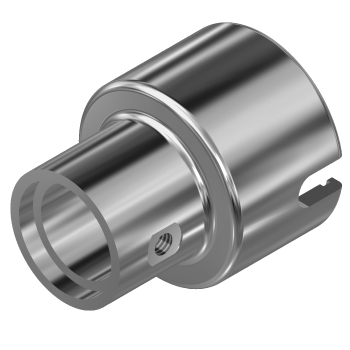 Recessed Collar
Recess collars to your requirements in depth increments of 1/64″ each.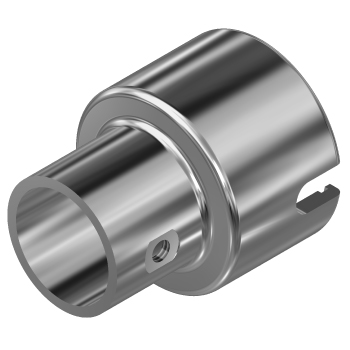 Telescoping Collar
The end of the collar butts against the tube sheet, maintaining a constant depth roll.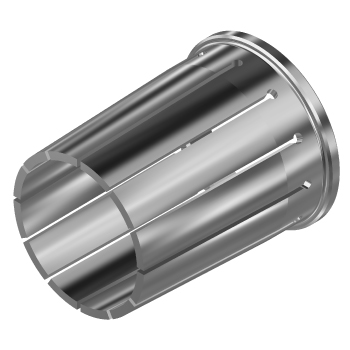 Thin Wall Collar
Thin wall insert fits inside of the thin wall collar housing to prevent the tube from being drawn into the collar.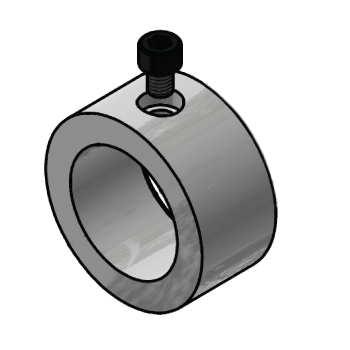 Air Cooler Collar Ring
The collar ring prevents the expander from getting pulled into the plug hole and damaging threads or scratching the gasket seat.
Tube Sheet Thickness/Roll Length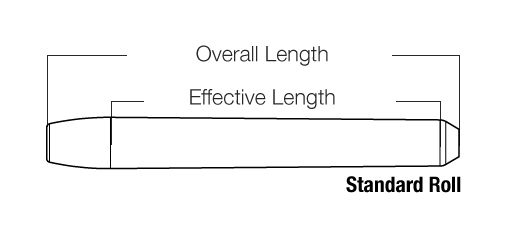 Tube Sheet Thickness
Roll Length
3 Roll Flush Expanders
3 Roll 1/8″ Recess Expanders
1/2″ – 4″
(12.7 – 101.6mm)
1-5/8″
(41.3mm)
24121 – 24167
24121RB8 – 24167RA8
1/2″ – 4″
(12.7 – 101.6mm)
1-1/2″*
(38.1mm)
24124 – 24127
24124RA8 – 24127RB8
1-1/4″ – 4-3/8″
(31.8 – 111.1mm)
2-3/8″
(60.3mm)
24228 – 24267
24228RA8 – 24267RA8
1/2″ – 8″
(12.7 – 203.2mm)
1-5/8″
(41.3mm)
24128-8 – 24167-8
24128RA8-8 – 24167RA8-8
1/2″ – 8″
(12.7 – 203.2mm)
1-1/2″*
(38.1mm)
24124-8 – 24127-8
24124RA8-8 – 24127RB8-8
1-1/4″ – 8-3/8″
(31.8 – 212.7mm)
2-3/8″
(60.3mm)
24228-8 – 24267-8
24228RA8-8 – 24267RA8-8
1-1/2″ – 12″
(38.1- 304.8mm)
1-5/8″
(41.3mm)
24128-12 – 24167-12
24128RA8-12 – 24267RA8-12
1-1/2″ – 12″
(38.1- 304.8mm)
1-1/2″*
(38.1mm)
24124-12 – 24127-12
24124RA8-12 – 24127RB8-12
2-1/4″ – 12-3/8″
(57.21- 314.3mm)
2-3/8″
(60.3mm)
24228-12 – 24267-12
24228RA8-12 – 24267RA8-12
*Roll Sets 241R24-3, 241R25-3, 241R26-3, 241R27-3
Tube Sheet Thickness
Roll Length
4 Roll Expander
5 Roll Flush Expander
5 Roll 1/8″ Recess Expander
4 Roll Expander w Pilot
5 Roll Expander w Pilot
1/2″ – 4″
(12.7 – 101.6mm)
1-5/8″
(41.3mm)
24131-4 – 24132-4
24131-5 – 24165-5
24131RB8-5 – 24147RA8-5
24131PTW-4 – 24132PTW-4
24136PTW-5 – 24165PTW-5
1-1/4″ – 4-3/8″
(31.8 – 111.1mm)
2-3/8″
(60.3mm)
24231-4 – 24232-4
24231-5 – 24265-5
24231RB8-5 – 24247RA8-5
24231PTW-4 – 24232PTW-4
24236PTW-5 – 24265PTW-5
3 Roll Expander Part Numbers
24121, 24121RB8, 24221, 24221RB8, 24122, 24122RB8, 24222, 24222RB8, 24123, 24123RA8, 24223, 24223RA8, 24124, 24124RA8, 24224, 24224RA8, 24125, 24125RA8, 24225, 24225RA8, 24126, 24126RA8, 24226, 24226RA8, 24127, 24127RA8, 24227, 24227RA8, 24128, 24128RA8, 24129, 24129RA8, 24130, 24130RA8, 24131, 24131RA8, 24132, 24132RA8, 24129, 24129RB8, 24130, 24130RB8, 24131, 24131RB8, 24132, 24132RB8, 24133, 24133RA8, 24134, 24134RA8, 24135, 24135RA8, 24136, 24136RA8, 24134, 24134RB8, 24135, 24135RB8, 24136, 24136RB8, 24138, 24138RA8, 24139, 24139RA8, 24140, 24140RA8, 24141, 24141RA8, 24142, 24142RA8, 24138, 24138RB8, 24139, 24139RB8, 24140, 24140RB8, 24141, 24141RB8, 24143, 24143RA8, 24144, 24144RA8, 24145, 24145RA8, 24146, 24146RA8, 24147, 24147RA8, 24228, 24228RA8, 24229, 24229RA8, 24230, 24230RA8, 24231, 24231RA8, 24232, 24232RA8, 24229, 24229RB8, 24230, 24230RB8, 24231, 24231RB8, 24232, 24232RB8, 24233, 24233RA8, 24234, 24234RA8, 24235, 24235RA8, 24236, 24236RA8, 24234, 24234RB8, 24235, 24235RB8, 24236, 24236RB8, 24238, 24238RA8, 24239, 24239RA8, 24240, 24240RA8, 24241, 24241RA8, 24242, 24242RA8, 24238, 24238RB8, 24239, 24239RB8, 24240, 24240RB8, 24241, 24241RB8, 24243, 24243RA8, 24244, 24244RA8, 24245, 24245RA8, 24246, 24246RA8, 24247, 24247RA8, 24143, 24143RB8, 24144, 24144RB8, 24145, 24145RB8, 24146, 24146RB8, 24149, 24149RA8, 24150, 24150RA8, 24151, 24151RA8, 24152, 24152RA8, 24149, 24149RB8, 24150, 24150RB8, 24153, 24153RA8, 24155, 24155RA8, 24156, 24156RA8, 24157, 24157RA8, 24155, 24155RB8, 24156, 24156RB8, 24158, 24158RA8, 24159, 24159RA8, 24160, 24160RA8, 24161, 24161RA8, 24159, 24159RB8, 24160, 24160RB8, 24161, 24161RB8, 24163, 24163RA8, 24164, 24164RA8, 24165, 24165RA8, 24166, 24166RA8, 24167, 24167RA8, 24243, 24243RB8, 24244, 24244RB8, 24245, 24245RB8, 24246, 24246RB8, 24249, 24249RA8, 24250, 24250RA8, 24251, 24251RA8, 24252, 24252RA8, 24249, 24249RB8, 24250, 24250RB8, 24253, 24253RA8, 24255, 24255RA8, 24256, 24256RA8, 24257, 24257RA8, 24255, 24255RB8, 24256, 24256RB8, 24258, 24258RA8, 24259, 24259RA8, 24260, 24260RA8, 24261, 24261RA8, 24259, 24259RB8, 24260, 24260RB8, 24261, 24261RB8, 24263, 24263RA8, 24264, 24264RA8, 24265, 24265RA8, 24266, 24266RA8, 24267, 24267RA8, 24124-8, 24124RA8-8, 24125-8, 24125RA8-8, 24126-8, 24126RA8-8, 24127-8, 24127RA8-8, 24125-8, 24125RB8-8, 24127-8, 24127RB8-8, 24128-8, 24128RA8-8, 24129-8, 24129RA8-8, 24130-8, 24130RA8-8, 24131-8, 24131RA8-8, 24132-8, 24132RA8-8, 24129-8, 24129RB8-8, 24130-8, 24130RB8-8, 24131-8, 24131RB8-8, 24132-8, 24132RB8-8, 24133-8, 24133RA8-8, 24134-8, 24134RA8-8, 24135-8, 24135RA8-8, 24136-8, 24136RA8-8, 24134-8, 24134RB8-8, 24135-8, 24135RB8-8, 24136-8, 24136RB8-8, 24138-8, 24138RA8-8, 24139-8, 24139RA8-8, 24140-8, 24140RA8-8, 24141-8, 24141RA8-8, 24142-8, 24142RA8-8, 24138-8, 24138RB8-8, 24139-8, 24139RB8-8, 24140-8, 24140RB8-8, 24141-8, 24141RB8-8, 24143-8, 24143RA8-8, 24144-8, 24144RA8-8, 24145-8, 24145RA8-8, 24146-8, 24146RA8-8, 24147-8, 24147RA8-8, 24228-8, 24228RA8-8, 24229-8, 24229RA8-8, 24230-8, 24230RA8-8, 24231-8, 24231RA8-8, 24232-8, 24232RA8-8, 24229-8, 24229RB8-8, 24230-8, 24230RB8-8, 24231-8, 24231RB8-8, 24232-8, 24232RB8-8, 24233-8, 24233RA8-8, 24234-8, 24234RA8-8, 24235-8, 24235RA8-8, 24236-8, 24236RA8-8, 24234-8, 24234RB8-8, 24235-8, 24235RB8-8, 24236-8, 24236RB8-8, 24238-8, 24238RA8-8, 24239-8, 24239RA8-8, 24240-8, 24240RA8-8, 24241-8, 24241RA8-8, 24242-8, 24242RA8-8, 24238-8, 24238RB8-8, 24239-8, 24239RB8-8, 24240-8, 24240RB8-8, 24241-8, 24241RB8-8, 24243-8, 24243RA8-8, 24244-8, 24244RA8-8, 24245-8, 24245RA8-8, 24246-8, 24246RA8-8, 24247-8, 24247RA8-8, 24143-8, 24143RB8-8, 24144-8, 24144RB8-8, 24145-8, 24145RB8-8, 24146-8, 24146RB8-8, 24149-8, 24149RA8-8, 24150-8, 24150RA8-8, 24151-8, 24151RA8-8, 24152-8, 24152RA8-8, 24149-8, 24149RB8-8, 24150-8, 24150RB8-8, 24153-8, 24153RA8-8, 24155-8, 24155RA8-8, 24156-8, 24156RA8-8, 24157-8, 24157RA8-8, 24155-8, 24155RB8-8, 24156-8, 24156RB8-8, 24158-8, 24158RA8-8, 24159-8, 24159RA8-8, 24160-8, 24160RA8-8, 24161-8, 24161RA8-8, 24159-8, 24159RB8-8, 24160-8, 24160RB8-8, 24161-8, 24161RB8-8, 24163-8, 24163RA8-8, 24164-8, 24164RA8-8, 24165-8, 24165RA8-8, 24166-8, 24166RA8-8, 24167-8, 24167RA8-8, 24243-8, 24243RB8-8, 24244-8, 24244RB8-8, 24245-8, 24245RB8-8, 24246-8, 24246RB8-8, 24249-8, 24249RA8-8, 24250-8, 24250RA8-8, 24251-8, 24251RA8-8, 24252-8, 24252RA8-8, 24249-8, 24249RB8-8, 24250-8, 24250RB8-8, 24253-8, 24253RA8-8, 24255-8, 24255RA8-8, 24256-8, 24256RA8-8, 24257-8, 24257RA8-8, 24255-8, 24255RB8-8, 24256-8, 24256RB8-8, 24258-8, 24258RA8-8, 24259-8, 24259RA8-8, 24260-8, 24260RA8-8, 24261-8, 24261RA8-8, 24259-8, 24259RB8-8, 24260-8, 24260RB8-8, 24261-8, 24261RB8-8, 24263-8, 24263RA8-8, 24264-8, 24264RA8-8, 24265-8, 24265RA8-8, 24266-8, 24266RA8-8, 24267-8, 24267RA8-8, 24124-12, 24124RA8-12, 24125-12, 24125RA8-12, 24126-12, 24126RA8-12, 24127-12, 24127RA8-12, 24125-12, 24125RB8-12, 24127-12, 24127RB8-12, 24128-12, 24128RA8-12, 24129-12, 24129RA8-12, 24130-12, 24130RA8-12, 24131-12, 24131RA8-12, 24132-12, 24132RA8-12, 24129-12, 24129RB8-12, 24130-12, 24130RB8-12, 24131-12, 24131RB8-12, 24132-12, 24132RB8-12, 24133-12, 24133RA8-12, 24134-12, 24134RA8-12, 24135-12, 24135RA8-12, 24136-12, 24136RA8-12, 24134-12, 24134RB8-12, 24135-12, 24135RB8-12, 24136-12, 24136RB8-12, 24138-12, 24138RA8-12, 24139-12, 24139RA8-12, 24140-12, 24140RA8-12, 24141-12, 24141RA8-12, 24142-12, 24142RA8-12, 24138-12, 24138RB8-12, 24139-12, 24139RB8-12, 24140-12, 24140RB8-12, 24141-12, 24141RB8-12, 24143-12, 24143RA8-12, 24144-12, 24144RA8-12, 24145-12, 24145RA8-12, 24146-12, 24146RA8-12, 24147-12, 24147RA8-12, 24228-12, 24228RA8-12, 24229-12, 24229RA8-12, 24230-12, 24230RA8-12, 24231-12, 24231RA8-12, 24232-12, 24232RA8-12, 24229-12, 24229RB8-12, 24230-12, 24230RB8-12, 24231-12, 24231RB8-12, 24232-12, 24232RB8-12, 24233-12, 24233RA8-12, 24234-12, 24234RA8-12, 24235-12, 24235RA8-12, 24236-12, 24236RA8-12, 24234-12, 24234RB8-12, 24235-12, 24235RB8-12, 24236-12, 24236RB8-12, 24238-12, 24238RA8-12, 24239-12, 24239RA8-12, 24240-12, 24240RA8-12, 24241-12, 24241RA8-12, 24242-12, 24242RA8-12, 24238-12, 24238RB8-12, 24239-12, 24239RB8-12, 24240-12, 24240RB8-12, 24241-12, 24241RB8-12, 24243-12, 24243RA8-12, 24244-12, 24244RA8-12, 24245-12, 24245RA8-12, 24246-12, 24246RA8-12, 24247-12, 24247RA8-12, 24143-12, 24143RB8-12, 24144-12, 24144RB8-12, 24145-12, 24145RB8-12, 24146-12, 24146RB8-12, 24149-12, 24149RA8-12, 24150-12, 24150RA8-12, 24151-12, 24151RA8-12, 24152-12, 24152RA8-12, 24149-12, 24149RB8-12, 24150-12, 24150RB8-12, 24153-12, 24153RA8-12, 24155-12, 24155RA8-12, 24156-12, 24156RA8-12, 24157-12, 24157RA8-12, 24155-12, 24155RB8-12, 24156-12, 24156RB8-12, 24158-12, 24158RA8-12, 24159-12, 24159RA8-12, 24160-12, 24160RA8-12, 24161-12, 24161RA8-12, 24159-12, 24159RB8-12, 24160-12, 24160RB8-12, 24161-12, 24161RB8-12, 24163-12, 24163RA8-12, 24164-12, 24164RA8-12, 24165-12, 24165RA8-12, 24166-12, 24166RA8-12, 24167-12, 24267RA8-12, 24243-12, 24243RB8-12, 24244-12, 24244RB8-12, 24245-12, 24245RB8-12, 24246-12, 24246RB8-12, 24249-12, 24249RA8-12, 24250-12, 24250RA8-12, 24251-12, 24251RA8-12, 24252-12, 24252RA8-12, 24249-12, 24249RB8-12, 24250-12, 24250RB8-12, 24253-12, 24253RA8-12, 24255-12, 24255RA8-12, 24256-12, 24256RA8-12, 24257-12, 24257RA8-12, 24255-12, 24255RB8-12, 24256-12, 24256RB8-12, 24258-12, 24258RA8-12, 24259-12, 24259RA8-12, 24260-12, 24260RA8-12, 24261-12, 24261RA8-12, 24259-12, 24259RB8-12, 24260-12, 24260RB8-12, 24261-12, 24261RB8-12, 24263-12, 24263RA8-12, 24264-12, 24264RA8-12, 24265-12, 24265RA8-12, 24266-12, 24266RA8-12, 24267-12, 24267RA8-12
3 Roll Expander Part Numbers:
Mandrels & Roll Sets
Roll Sets:
241R21-3, 242R21-3, 241R22-3, 242R22-3, 241R24-3, 241R25-3, 241R26-3, 241R27-3, 241R28-3, 241R29-3, 241R30-3, 241R31-3, 241R32-3, 241R29-3, 241R30-3, 241R31-3, 241R32-3, 241R33-3, 241R34-3, 241R35-3, 241R36-3, 241R34-3, 241R35-3, 241R36-3, 241R38-3, 241R39-3, 241R41-3, 241R42-3, 241R38-3, 241R39-3, 241R41-3, 241R42-3, 241R44-3, 241R46-3, 241R47-3, 242R28-3, 242R29-3, 242R30-3, 242R31-3, 242R32-3, 242R29-3, 242R30-3, 242R31-3, 242R32-3, 242R33-3, 242R34-3, 242R35-3, 242R36-3, 242R34-3, 242R35-3, 242R36-3, 242R38-3, 242R39-3, 242R41-3, 242R42-3, 242R38-3, 242R39-3, 242R41-3, 242R42-3, 242R44-3, 242R46-3, 242R47-3, 241R42-3, 241R44-3, 241R46-3, 241R47-3, 241R50-3, 241R52-3, 241R47-3, 241R50-3, 241R53-3, 241R52-3, 241R56-3, 241R57-3, 241R52-3, 241R56-3, 241R58-3, 241R57-3, 241R60-3, 241R61-3, 241R57-3, 241R60-3, 241R61-3, 241R64-3, 241R65-3, 241R66-3, 241R67-3, 242R42-3, 242R44-3, 242R46-3, 242R47-3, 242R50-3, 242R52-3, 242R47-3, 242R50-3, 242R53-3, 242R52-3, 242R56-3, 242R57-3, 242R52-3, 242R56-3, 242R58-3, 242R57-3, 242R60-3, 242R61-3, 242R57-3, 242R60-3, 242R61-3, 242R64-3, 242R65-3, 242R66-3, 242R67-3, 241R24-3, 241R25-3, 241R26-3, 241R27-3, 241R25-3, 241R27-3, 241R28-3, 241R29-3, 241R30-3, 241R31-3, 241R32-3, 241R29-3, 241R30-3, 241R31-3, 241R32-3, 241R33-3, 241R34-3, 241R35-3, 241R36-3, 241R34-3, 241R35-3, 241R36-3, 241R38-3, 241R39-3, 241R41-3, 241R42-3, 241R38-3, 241R39-3, 241R41-3, 241R42-3, 241R44-3, 241R46-3, 241R47-3, 242R28-3, 242R29-3, 242R30-3, 242R31-3, 242R32-3, 242R29-3, 242R30-3, 242R31-3, 242R32-3, 242R33-3, 242R34-3, 242R35-3, 242R36-3, 242R34-3, 242R35-3, 242R36-3, 242R38-3, 242R39-3, 242R41-3, 242R42-3, 242R38-3, 242R39-3, 242R41-3, 242R42-3, 242R44-3, 242R46-3, 242R47-3, 241R42-3, 241R44-3, 241R46-3, 241R47-3, 241R50-3, 241R52-3, 241R47-3, 241R50-3, 241R53-3, 241R52-3, 241R56-3, 241R57-3, 241R52-3, 241R56-3, 241R58-3, 241R57-3, 241R60-3, 241R61-3, 241R57-3, 241R60-3, 241R61-3, 241R64-3, 241R65-3, 241R66-3, 241R67-3, 242R42-3, 242R44-3, 242R46-3, 242R47-3, 242R50-3, 242R52-3, 242R47-3, 242R50-3, 242R53-3, 242R52-3, 242R56-3, 242R57-3, 242R52-3, 242R56-3, 242R58-3, 242R57-3, 242R60-3, 242R61-3, 242R57-3, 242R60-3, 242R61-3, 242R64-3, 242R65-3, 242R66-3, 242R67-3, 241R24-3, 241R25-3, 241R26-3, 241R27-3, 241R25-3, 241R27-3, 241R28-3, 241R29-3, 241R30-3, 241R31-3, 241R32-3, 241R29-3, 241R30-3, 241R31-3, 241R32-3, 241R33-3, 241R34-3, 241R35-3, 241R36-3, 241R34-3, 241R35-3, 241R36-3, 241R38-3, 241R39-3, 241R41-3, 241R42-3, 241R38-3, 241R39-3, 241R41-3, 241R42-3, 241R44-3, 241R46-3, 241R47-3, 242R28-3, 242R29-3, 242R30-3, 242R31-3, 242R32-3, 242R29-3, 242R30-3, 242R31-3, 242R32-3, 242R33-3, 242R34-3, 242R35-3, 242R36-3, 242R34-3, 242R35-3, 242R36-3, 242R38-3, 242R39-3, 242R41-3, 242R42-3, 242R38-3, 242R39-3, 242R41-3, 242R42-3, 242R44-3, 242R46-3, 242R47-3, 241R42-3, 241R44-3, 241R46-3, 241R47-3, 241R50-3, 241R52-3, 241R47-3, 241R50-3, 241R53-3, 241R52-3, 241R56-3, 241R57-3, 241R52-3, 241R56-3, 241R58-3, 241R57-3, 241R60-3, 241R61-3, 241R57-3, 241R60-3, 241R61-3, 241R64-3, 241R65-3, 241R66-3, 241R67-3, 242R42-3, 242R44-3, 242R46-3, 242R47-3, 242R50-3, 242R52-3, 242R47-3, 242R50-3, 242R53-3, 242R52-3, 242R56-3, 242R57-3, 242R52-3, 242R56-3, 242R58-3, 242R57-3, 242R60-3, 242R61-3, 242R57-3, 242R60-3, 242R61-3, 242R64-3, 242R65-3, 242R66-3, 242R67-3,
Mandrels:
24M22, 24M23, 24M24, 24M25, 24M27, 24M28, 24M29, 24M30, 24M31, 24M32, 24M29, 24M30, 24M31, 24M32, 24M34, 24M35, 24M36, 24M34, 24M35, 24M36, 24M40, 24M42, 24M36, 24M40, 24M43, 24M45, 24M46, 24M43, 24M45, 24M46, 24M49, 24M51, 24M49, 24M53, 24M55, 24M56, 24M55, 24M56, 24M58, 24M59, 24M60, 24M59, 24M60, 24M63, 24M66, 24M67, 24M24-8, 24M25-8, 24M27-8, 24M25-8, 24M27-8, 24M28-8, 24M29-8, 24M30-8, 24M31-8, 24M32-8, 24M29-8, 24M30-8, 24M31-8, 24M32-8, 24M34-8, 24M35-8, 24M36-8, 24M34-8, 24M35-8, 24M36-8, , 24M40-8, 24M42-8, 24M36-8, 24M40-8, 24M43-8, 24M45-8, 24M46-8, 24M43-8, 24M45-8, 24M46-8, 24M49-8, 24M51-8, 24M49-8, 24M53-8, 24M55-8, 24M56-8, 24M55-8, 24M56-8, 24M58-8, 24M59-8, 24M60-8, 24M59-8, 24M60-8, 24M63-8, , 24M66-8, 24M67-8, 24M24-12, 24M25-12, 24M27-12, 24M25-12, 24M27-12, 24M28-12, 24M29-12, 24M30-12, 24M31-12, 24M32-12, 24M29-12, 24M30-12, 24M31-12, 24M32-12, 24M34-12, 24M35-12, 24M36-12, 24M34-12, 24M35-12, 24M36-12, , 24M40-12, 24M42-12, 24M36-12, 24M40-12, 24M43-12, 24M45-12, 24M46-12, 24M43-12, 24M45-12, 24M46-12, 24M49-12, 24M51-12, 24M49-12, 24M53-12, 24M55-12, 24M56-12, 24M55-12, 24M56-12, 24M58-12, 24M59-12, 24M60-12, 24M59-12, 24M60-12, 24M63-12, ,24M66-12, 24M67-12
4 & 5 Roll Expander Part Numbers
24131-4, 24132-4, 24231-4, 24232-4, 24131-5, 24131RB8-5, 24132-5, 24132RB8-5, 24133-5, 24133RA8-5, 24134-5, 24134RA8-5, 24136-5, 24136RA8-5, 24137-5, 24137RA8-5, 24141-5, 24142-5, 24141-5, 24141RB8-5, 24143-5, 24143RA8-5, 24144-5, 24144RA8-5, 24145-5, 24145RA8-5, 24146-5, 24146RA8-5, 24147-5, 24147RA8-5, 24152-5, 24157-5, 24161-5, 24165-5, 24231-5, 24231RB8-5, 24232-5, 24232RB8-5, 24233-5, 24233RA8-5, 24234-5, 24234RA8-5, 24236-5, 24236RA8-5, 24237-5, 24237RA8-5, 24241-5, 24242-5, 24241-5, 24241RB8-5, 24243-5, 24243RA8-5, 24244-5, 24244RA8-5, 24245-5, 24245RA8-5, 24246-5, 24246RA8-5, 24247-5, 24247RA8-5, 24252-5, 24257-5, 24261-5, 24265-5
4 & 5 Roll Expander Part Numbers:
Mandrels & Roll Sets
Roll Sets:
241R29-4, 241R31-4, 241R28-5, 241R29-5, 241R30-5, 241R31-5, 241R33-5, 241R34-5, 241R36-5, 241R39-5, 241R36-5, 241R39-5, 241R41-5, 241R41-5, 241R42-5, 241R43-5, 241R47-5, 241R52-5, 241R58-5, 241R60-5, 242R28-5, 242R29-5, 242R30-5, 242R31-5, 242R33-5, 242R34-5, 242R36-5, 242R39-5, 242R36-5, 242R39-5, 242R41-5, 242R41-5, 242R42-5, 242R43-5, 242R47-5, 242R52-5, 242R58-5, 242R60-5
Mandrels:
24M31-4, 24M31-4, 24M31-5, 24M32-5, 24M33-5, 24M34-5, 24M36-5, 24M37-5, 24M41-5, 24M41-5, 24M41-5, 24M43-5, 24M44-5, 24M45-5, 24M46-5, 24M46-5, 24M52-5, 24M57-5, 24M61-5, 24M65-5
4 & 5 Roll Expander With Nylon Pilot Part Numbers
24131PTW-4 , 24132PTW-4 , 24231PTW-4 , 24232PTW-4 , 24136PTW-5 , 24137PTW-5 , 24141PTW-5 , 24142PTW-5 , 24146PTW-5 , 24147PTW-5 , 24152PTW-5 , 24157PTW-5 , 24161PTW-5 , 24165PTW-5 , 24236PTW-5 , 24237PTW-5 , 24241PTW-5 , 24242PTW-5 , 24246PTW-5 , 24247PTW-5 , 24252PTW-5 , 24257PTW-5 , 24261PTW-5 , 24265PTW-5
4 & 5 Roll Expander With Nylon Pilot Part Numbers:
Mandrels & Roll Sets
Roll Sets:
241R29-4, 241R31-4, 242R29-4, 242R31-4, 241R33-5, 241R34-5, 241R36-5, 241R39-5, 241R42-5, 241R43-5, 241R47-5, 241R52-5, 241R58-5, 241R60-5, 242R33-5, 242R34-5, 242R36-5, 242R39-5, 242R42-5, 242R43-5, 242R47-5, 242R52-5, 242R58-5, 242R60-5
Mandrels:
24MP31-4, 24MP31-4, 24MP36-5, 24MP37-5, 24MP41-5, 24MP41-5, 24MP46-5, 24MP46-5, 24MP52-5, 24MP57-5, 24MP61-5, 24MP65-5
5 Roll Expander Part Numbers
24131-5-8, 24131RB8-5-8, 24132-5-8, 24132RB8-5-8, 24133-5-8, 24133RA8-5-8, 24134-5-8, 24134RA8-5-8, 24136-5-8, 24136RA8-5-8, 24137-5-8, 24137RA8-5-8, 24141-5-8, 24141RB8-5-8, 24143-5-8, 24143RA8-5-8, 24144-5-8, 24144RA8-5-8, 24145-5-8, 24145RA8-5-8, 24146-5-8, 24146RA8-5-8, 24147-5-8, 24147RA8-5-8, 24231-5-8, 24131RB8-5-8, 24232-5-8, 24132RB8-5-8, 24233-5-8, 24133RA8-5-8, 24234-5-8, 24134RA8-5-8, 24236-5-8, 24136RA8-5-8, 24237-5-8, 24137RA8-5-8, 24241-5-8, 24141RB8-5-8, 24243-5-8, 24143RA8-5-8, 24244-5-8, 24144RA8-5-8, 24245-5-8, 24145RA8-5-8, 24246-5-8, 24146RA8-5-8, 24247-5-8, 24147RA8-5-8, 24131-5-12, 24231RB8-5-12, 24132-5-12, 24232RB8-5-12, 24133-5-12, 24233RA8-5-12, 24134-5-12, 24234RA8-5-12, 24136-5-12, 24236RA8-5-12, 24137-5-12, 24237RA8-5-12, 24141-5-12, 24241RB8-5-12, 24143-5-12, 24243RA8-5-12, 24144-5-12, 24244RA8-5-12, 24145-5-12, 24245RA8-5-12, 24146-5-12, 24246RA8-5-12, 24147-5-12, 24247RA8-5-12, 24231-5-12, 24231RB8-5-12, 24232-5-12, 24232RB8-5-12, 24233-5-12, 24233RA8-5-12, 24234-5-12, 24234RA8-5-12, 24236-5-12, 24236RA8-5-12, 24237-5-12, 24237RA8-5-12, 24241-5-12, 24241RB8-5-12, 24243-5-12, 24243RA8-5-12, 24244-5-12, 24244RA8-5-12, 24245-5-12, 24245RA8-5-12, 24246-5-12, 24246RA8-5-12, 24247-5-12, 24247RA8-5-12
5 Roll Expander Part Numbers:
Mandrels & Roll Sets
Roll Sets:
241R28-5, 241R29-5, 241R30-5, 241R31-5, 241R33-5, 241R34-5, 241R36-5, 241R39-5, 241R41-5, 241R41-5, 241R42-5, 241R43-5, 242R28-5, 242R29-5, 242R30-5, 242R31-5, 242R33-5, 242R34-5, 242R36-5, 242R39-5, 242R41-5, 242R41-5, 242R42-5, 242R43-5, 241R28-5, 241R29-5, 241R30-5, 241R31-5, 241R33-5, 241R34-5, 241R36-5, 241R39-5, 241R41-5, 241R41-5, 241R42-5, 241R43-5, 242R28-5, 242R29-5, 242R30-5, 242R31-5, 242R33-5, 242R34-5, 242R36-5, 242R39-5, 242R41-5, 242R41-5, 242R42-5, 242R43-5
Mandrels:
24M31-5-8, 24M32-5-8, 24M33-5-8, 24M34-5-8, 24M36-5-8, 24M37-5-8, 24M41-5-8, 24M43-5-8, 24M44-5-8, 24M45-5-8, 24M46-5-8, 24M46-5-8, 24M31-5-12, 24M32-5-12, 24M33-5-12, 24M34-5-12, 24M36-5-12, 24M37-5-12, 24M41-5-12, 24M43-5-12, 24M44-5-12, 24M45-5-12, 24M46-5-12, 24M46-5-12