Internal Recessing Unit
Precision Metal Finishing Tools
Internal Recessing Unit Specifications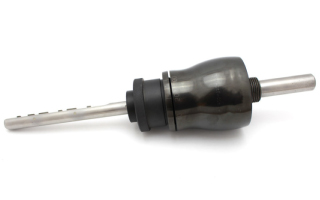 | Material Machined | Surface Feet Per Minute |
| --- | --- |
| Cast Iron- Gray | 100-110 |
| Cast Iron- Nodular | 30-70 |
| Steel/Forgings | 35-70 |
| Aluminum & Brass | 150-160 |
1. The IRU is fed into the work-piece at a fast feed rate with the pilot locating within the bore until the nose piece is approximately .020" (0.5mm) from the face of the work-piece.

2. Feed into the work-piece at a cutting feed rate and make contact with the face of work-piece. At this point the operating head and nose piece are engaged and will stop rotating.

3. Continue feeding forward causing the system to actuate, lifting the cutter perpendicular to the axis of rotation, machining the internal features in the bore.

4. Retract the IRU three (3) times faster than the cutting feed rate.

5. Once the nose piece is off of the face of the work piece the cutter has fully retracted back into the pilot and from this point the IRU can be rapid fed out of the work-piece.

Monaghan Tooling Group is Elliott's exclusive marketing and sales rep for our precision metal finishing tools.