Elliott Cleaners Excel During A Major Tube Cleaning Project
"Our client was very pleased with the results from our work with Elliott's equipment because the job was done faster and at better quality than with any other contractor on this application."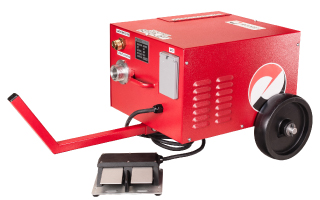 We purchased last year several cleaning motors from Elliott Tool for use on a project with a major client cleaning over 8,000 tubes. Our client was very pleased with the results from our work with this equipment because the job was done faster and at better quality than with any other contractor on this application.
More recently the client even wrote an internal memo to other departments in their company suggesting Majed Alrammah and Elliott Tool be the top consideration for future cleaning jobs.
Three separate contractors attempted to clean this very challenging application which is summarized below. One contractor used high-pressure water blasting to practically no effect.
Vessel: Fin Fan Cooler
Type of deposit: Rock Solid.
Composition: Calcium carbonate.
Thickness of deposit: 75%, entire length
Tube section: Straight, horizontal
 Tube OD: 1"
Tube wall thickness: 14 BWG
Tube material: Carbon steel
Tube length: 18 M
Tubes cleaned: >8,000
Elliott's Roto Jet I and air motor were used to drive the cleaning heads. The Roto Jet I was most commonly used, but when near complete tube blockage was encountered, the air motor was used. The two cleaning heads used were Elliott's Cone Cutter and Twist Drill. The Cone Cutter worked best, though in places where the tubes sagged due to long lengths we used the Elliott Twist Drill to good effect. It would take 6-10 minutes to clean an 18 meter long tube.
Elliott Tool's product quality and customer support is something Majed A Alrammah can depend on implicitly and I can highly recommend that you consider Elliott Tool.
Sheik Mohammed
Majed A. Alrammah
General Contracting Est.