1500 Series
Flaring Boiler Expanders
1500 Series Specifications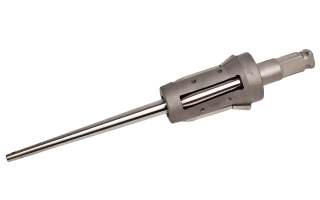 1.750" to 4.000"
(44.5 – 101.6mm)
Tube Sheet Thickness/Roll Length

Tube Sheet Thickness
XX
Overall Length
Eff. Length
1/2″ – 7/8″
(12.7 – 22.2mm)
15
1.500″
(38.1mm)
0.875″
(22.22mm)
1″ – 1-3/8″
(25.4 – 35mm)
21
2.000″
(50.8mm)
1.375″
(34.93mm)
1-1/2″ – 1-7/8″
(38.1 – 47.6mm)
23
2.500″
(63.5 mm)
1.875″
(47.63mm)
2″ – 2-3/8″
(50.8 – 60.3mm)
25
3.00″
(76.2mm)
2.375″
(60.33mm)
2-1/2″ – 2-7/8″
(63.5 – 73.0mm)
27
3.500″
(88.9mm)
2.875″
(73.0mm)
3″ – 3-3/8″
(76.2 – 85.7mm)
29
4.000″
(101.6 mm)
3.375″
(85.73mm)
xx signifies tube sheet thickness.
Drum Mandrel:
10-1/2" (266.7mm) to 17-1/2" (444.5mm) long.
Header Mandrel:
For reaching through a header or water leg.
Short Mandrel
6-1/4" (158.8mm) long. May require two or more mandrels to obtain full expansion range of the expander.
Roll Set:
Consists of two each expanding roll, flaring roll, overlapping roll, and one set of roll retainer pins.
Lubricant
1515-10308, 1515-10308, 1515-10716, 1515-10716, 1515-10102, 1515-10102, 1515-10916, 1515-10916, 1515-10508, 1515-10508, 1515-11116, 1515-11116, 1515-10304, 1515-10304, 1515-11316, 1515-11316, 1515-11316, 1515-11316, 1515-10708, 1515-10708, 1515-11516, 1515-11516, 1515-20000, 1515-20000, 1515-20000, 1515-20000, 1515-20000, 1515-20000, 1515-20116, 1515-20116, 1515-20108, 1515-20108, 1515-20316, 1515-20316, 1515-20104, 1515-20104, 1515-20104, 1515-20104, 1515-20104, 1515-20104, 1515-20516, 1515-20308, 1515-20716, 1515-20716, 1515-20102, 1515-20916, 1515-20916, 1515-20508, 1515-20508, 1515-21116, 1515-21116, 1515-20304, 1515-21316, 1515-21316, 1515-20708, 1515-20708, 1515-21516, 1515-21516, 1515-30000, 1515-30116, 1515-30116, 1515-30108, 1515-30108, 1515-30316, 1515-30316, 1515-30104, 1515-30516, 1515-30308, 1515-30716, 1515-30716, 1515-30102, 1515-30916, 1515-30916, 1515-30508, 1515-30508, 1515-31116, 1515-31116, 1521-10308, 1521-10308, 1521-10716, 1521-10716, 1521-10102, 1521-10102, 1521-10916, 1521-10916, 1521-10508, 1521-10508, 1521-11116, 1521-11116, 1521-10304, 1521-10304, 1521-11316, 1521-11316, 1521-11316, 1521-11316, 1521-10708, 1521-10708, 1521-11516, 1521-11516, 1521-20000, 1521-20000, 1521-20000, 1521-20000, 1521-20000, 1521-20000, 1521-20116, 1521-20116, 1521-20108, 1521-20108, 1521-20316, 1521-20316, 1521-20104, 1521-20104, 1521-20104, 1521-20104, 1521-20104, 1521-20104, 1521-20516, 1521-20308, 1521-20716, 1521-20716, 1521-20102, 1521-20916, 1521-20916, 1521-20508, 1521-20508, 1521-21116, 1521-21116, 1521-20304, 1521-21316, 1521-21316, 1521-20708, 1521-20708, 1521-21516, 1521-21516, 1521-30000, 1521-30116, 1521-30116, 1521-30108, 1521-30108, 1521-30316, 1521-30316, 1521-30104, 1521-30516, 1521-30308, 1521-30716, 1521-30716, 1521-30102, 1521-30916, 1521-30916, 1521-30508, 1521-30508, 1521-31116, 1521-31116, 1523-10308, 1523-10308, 1523-10716, 1523-10716, 1523-10102, 1523-10102, 1523-10916, 1523-10916, 1523-10508, 1523-10508, 1523-11116, 1523-11116, 1523-10304, 1523-10304, 1523-11316, 1523-11316, 1523-11316, 1523-11316, 1523-10708, 1523-10708, 1523-11516, 1523-11516, 1523-20000, 1523-20000, 1523-20000, 1523-20000, 1523-20000, 1523-20000, 1523-20116, 1523-20116, 1523-20108, 1523-20108, 1523-20316, 1523-20316, 1523-20104, 1523-20104, 1523-20104, 1523-20104, 1523-20104, 1523-20104, 1523-20516, 1523-20308, 1523-20716, 1523-20716, 1523-20102, 1523-20916, 1523-20916, 1523-20508, 1523-20508, 1523-21116, 1523-21116, 1523-20304, 1523-21316, 1523-21316, 1523-20708, 1523-20708, 1523-21516, 1523-21516, 1523-30000, 1523-30116, 1523-30116, 1523-30108, 1523-30108, 1523-30316, 1523-30316, 1523-30104, 1523-30516, 1523-30308, 1523-30716, 1523-30716, 1523-30102, 1523-30916, 1523-30916, 1523-30508, 1523-30508, 1523-31116, 1523-31116, 1525-10308, 1525-10308, 1525-10716, 1525-10716, 1525-10102, 1525-10102, 1525-10916, 1525-10916, 1525-10508, 1525-10508, 1525-11116, 1525-11116, 1525-10304, 1525-10304, 1525-11316, 1525-11316, 1525-11316, 1525-11316, 1525-10708, 1525-10708, 1525-11516, 1525-11516, 1525-20000, 1525-20000, 1525-20000, 1525-20000, 1525-20000, 1525-20000, 1525-20116, 1525-20116, 1525-20108, 1525-20108, 1525-20316, 1525-20316, 1525-20104, 1525-20104, 1525-20104, 1525-20104, 1525-20104, 1525-20104, 1525-20516, 1525-20308, 1525-20716, 1525-20716, 1525-20102, 1525-20916, 1525-20916, 1525-20508, 1525-20508, 1525-21116, 1525-21116, 1525-20304, 1525-21316, 1525-21316, 1525-20708, 1525-20708, 1525-21516, 1525-21516, 1525-30000, 1525-30116, 1525-30116, 1525-30108, 1525-30108, 1525-30316, 1525-30316, 1525-30104, 1525-30516, 1525-30308, 1525-30716, 1525-30716, 1525-30102, 1525-30916, 1525-30916, 1525-30508, 1525-30508, 1525-31116, 1525-31116, 1527-10308, 1527-10308, 1527-10716, 1527-10716, 1527-10102, 1527-10102, 1527-10916, 1527-10916, 1527-10508, 1527-10508, 1527-11116, 1527-11116, 1527-10304, 1527-10304, 1527-11316, 1527-11316, 1527-11316, 1527-11316, 1527-10708, 1527-10708, 1527-11516, 1527-11516, 1527-20000, 1527-20000, 1527-20000, 1527-20000, 1527-20000, 1527-20000, 1527-20116, 1527-20116, 1527-20108, 1527-20108, 1527-20316, 1527-20316, 1527-20104, 1527-20104, 1527-20104, 1527-20104, 1527-20104, 1527-20104, 1527-20516, 1527-20308, 1527-20716, 1527-20716, 1527-20102, 1527-20916, 1527-20916, 1527-20508, 1527-20508, 1527-21116, 1527-21116, 1527-20304, 1527-21316, 1527-21316, 1527-20708, 1527-20708, 1527-21516, 1527-21516, 1527-30000, 1527-30116, 1527-30116, 1527-30108, 1527-30108, 1527-30316, 1527-30316, 1527-30104, 1527-30516, 1527-30308, 1527-30716, 1527-30716, 1527-30102, 1527-30916, 1527-30916, 1527-30508, 1527-30508, 1527-31116, 1527-31116, 1529-10308, 1529-10308, 1529-10716, 1529-10716, 1529-10102, 1529-10102, 1529-10916, 1529-10916, 1529-10508, 1529-10508, 1529-11116, 1529-11116, 1529-10304, 1529-10304, 1529-11316, 1529-11316, 1529-11316, 1529-11316, 1529-10708, 1529-10708, 1529-11516, 1529-11516, 1529-20000, 1529-20000, 1529-20000, 1529-20000, 1529-20000, 1529-20000, 1529-20116, 1529-20116, 1529-20108, 1529-20108, 1529-20316, 1529-20316, 1529-20104, 1529-20104, 1529-20104, 1529-20104, 1529-20104, 1529-20104, 1529-20516, 1529-20308, 1529-20716, 1529-20716, 1529-20102, 1529-20916, 1529-20916, 1529-20508, 1529-20508, 1529-21116, 1529-21116, 1529-20304, 1529-21316, 1529-21316, 1529-20708, 1529-20708, 1529-21516, 1529-21516, 1529-30000, 1529-30116, 1529-30116, 1529-30108, 1529-30108, 1529-30316, 1529-30316, 1529-30104, 1529-30516, 1529-30308, 1529-30716, 1529-30716, 1529-30102, 1529-30916, 1529-30916, 1529-30508, 1529-30508, 1529-31116, 1529-31116,
Drum Mandrel Part Numbers
150003CD1PX, 150003CD1PX, 150003CD1PX, 150003CD1PX, 150003CD1PX, 150003CD1PX, 150003CD1PX, 150003CD1PX, 150003CD1PX, 150003CD1PX, 150003CD3PX, 150003CD3PX, 150003CD3PX, 150003CD3PX, 150003CD3PX, 150003CD3PX, 150003CD3PX, 150003CD3PX, 150003CD3PX, 150003CD3PX, 150003CD3PX, 150003CD3PX, 150003MD5PX, 150003MD5PX, 150003MD5PX, 150003MD5PX, 150003MD5PX, 150003MD5PX, 150003MD5PX, 150003MD5PX, 150003MD5PX, 150003MD5PX, 150003MD5PX, 150003MD5PX, 150003MD7PX, 150003MD7PX, 150003MD7PX, 150003MD7PX, 150003MD7PX, 150003MD7PX, 150003MD7PX, 150003MD7PX, 150003MD7PX, 150003MD7PX, 150003MD7PX, 150003MD7PX, 150003MD7PX, 150003MD7PX, 150003MD7PX, 150003MD8PX, 150003MD8PX, 150003MD8PX, 150003MD8PX, 150003MD8PX, 150003MD8PX, 150003MD8PX, 150003MD8PX, 150003MD8PX, 150003MD9PX, 150003MD9PX, 150003MD9PX, 150003MD9PX, 150003MD9PX, 150003MD9PX, 150003MD9PX, 150003MD9PX, 150003MD9PX, 150003MD10PX, 150003MD10PX, 150003MD10PX, 150003MD10PX, 150003MD10PX, 150003MD10PX, 150003MD10PX, 150003MD10PX, 150003MD11PX, 150003MD11PX, 150003CD1PX, 150003CD1PX, 150003CD1PX, 150003CD1PX, 150003CD1PX, 150003CD1PX, 150003CD1PX, 150003CD1PX, 150003CD1PX, 150003CD1PX, 150003CD3PX, 150003CD3PX, 150003CD3PX, 150003CD3PX, 150003CD3PX, 150003CD3PX, 150003CD3PX, 150003CD3PX, 150003CD3PX, 150003CD3PX, 150003CD3PX, 150003CD3PX, 150003MD5PX, 150003MD5PX, 150003MD5PX, 150003MD5PX, 150003MD5PX, 150003MD5PX, 150003MD5PX, 150003MD5PX, 150003MD5PX, 150003MD5PX, 150003MD5PX, 150003MD5PX, 150003MD7PX, 150003MD7PX, 150003MD7PX, 150003MD7PX, 150003MD7PX, 150003MD7PX, 150003MD7PX, 150003MD7PX, 150003MD7PX, 150003MD7PX, 150003MD7PX, 150003MD7PX, 150003MD7PX, 150003MD7PX, 150003MD7PX, 150003MD8PX, 150003MD8PX, 150003MD8PX, 150003MD8PX, 150003MD8PX, 150003MD8PX, 150003MD8PX, 150003MD8PX, 150003MD8PX, 150003MD9PX, 150003MD9PX, 150003MD9PX, 150003MD9PX, 150003MD9PX, 150003MD9PX, 150003MD9PX, 150003MD9PX, 150003MD9PX, 150003MD10PX, 150003MD10PX, 150003MD10PX, 150003MD10PX, 150003MD10PX, 150003MD10PX, 150003MD10PX, 150003MD10PX, 150003MD11PX, 150003MD11PX, 150003CD1PX, 150003CD1PX, 150003CD1PX, 150003CD1PX, 150003CD1PX, 150003CD1PX, 150003CD1PX, 150003CD1PX, 150003CD1PX, 150003CD1PX, 150003CD3PX, 150003CD3PX, 150003CD3PX, 150003CD3PX, 150003CD3PX, 150003CD3PX, 150003CD3PX, 150003CD3PX, 150003CD3PX, 150003CD3PX, 150003CD3PX, 150003CD3PX, 150003MD5PX, 150003MD5PX, 150003MD5PX, 150003MD5PX, 150003MD5PX, 150003MD5PX, 150003MD5PX, 150003MD5PX, 150003MD5PX, 150003MD5PX, 150003MD5PX, 150003MD5PX, 150003MD7PX, 150003MD7PX, 150003MD7PX, 150003MD7PX, 150003MD7PX, 150003MD7PX, 150003MD7PX, 150003MD7PX, 150003MD7PX, 150003MD7PX, 150003MD7PX, 150003MD7PX, 150003MD7PX, 150003MD7PX, 150003MD7PX, 150003MD8PX, 150003MD8PX, 150003MD8PX, 150003MD8PX, 150003MD8PX, 150003MD8PX, 150003MD8PX, 150003MD8PX, 150003MD8PX, 150003MD9PX, 150003MD9PX, 150003MD9PX, 150003MD9PX, 150003MD9PX, 150003MD9PX, 150003MD9PX, 150003MD9PX, 150003MD9PX, 150003MD10PX, 150003MD10PX, 150003MD10PX, 150003MD10PX, 150003MD10PX, 150003MD10PX, 150003MD10PX, 150003MD10PX, 150003MD11PX, 150003MD11PX, 150003CD1PX, 150003CD1PX, 150003CD1PX, 150003CD1PX, 150003CD1PX, 150003CD1PX, 150003CD1PX, 150003CD1PX, 150003CD1PX, 150003CD1PX, 150003CD3PX, 150003CD3PX, 150003CD3PX, 150003CD3PX, 150003CD3PX, 150003CD3PX, 150003CD3PX, 150003CD3PX, 150003CD3PX, 150003CD3PX, 150003CD3PX, 150003CD3PX, 150003MD5PX, 150003MD5PX, 150003MD5PX, 150003MD5PX, 150003MD5PX, 150003MD5PX, 150003MD5PX, 150003MD5PX, 150003MD5PX, 150003MD5PX, 150003MD5PX, 150003MD5PX, 150003MD7PX, 150003MD7PX, 150003MD7PX, 150003MD7PX, 150003MD7PX, 150003MD7PX, 150003MD7PX, 150003MD7PX, 150003MD7PX, 150003MD7PX, 150003MD7PX, 150003MD7PX, 150003MD7PX, 150003MD7PX, 150003MD7PX, 150003MD8PX, 150003MD8PX, 150003MD8PX, 150003MD8PX, 150003MD8PX, 150003MD8PX, 150003MD8PX, 150003MD8PX, 150003MD8PX, 150003MD9PX, 150003MD9PX, 150003MD9PX, 150003MD9PX, 150003MD9PX, 150003MD9PX, 150003MD9PX, 150003MD9PX, 150003MD9PX, 150003MD10PX, 150003MD10PX, 150003MD10PX, 150003MD10PX, 150003MD10PX, 150003MD10PX, 150003MD10PX, 150003MD10PX, 150003MD11PX, 150003MD11PX, 150003CD1PX, 150003CD1PX, 150003CD1PX, 150003CD1PX, 150003CD1PX, 150003CD1PX, 150003CD1PX, 150003CD1PX, 150003CD1PX, 150003CD1PX, 150003CD3PX, 150003CD3PX, 150003CD3PX, 150003CD3PX, 150003CD3PX, 150003CD3PX, 150003CD3PX, 150003CD3PX, 150003CD3PX, 150003CD3PX, 150003CD3PX, 150003CD3PX, 150003MD5PX, 150003MD5PX, 150003MD5PX, 150003MD5PX, 150003MD5PX, 150003MD5PX, 150003MD5PX, 150003MD5PX, 150003MD5PX, 150003MD5PX, 150003MD5PX, 150003MD5PX, 150003MD7PX, 150003MD7PX, 150003MD7PX, 150003MD7PX, 150003MD7PX, 150003MD7PX, 150003MD7PX, 150003MD7PX, 150003MD7PX, 150003MD7PX, 150003MD7PX, 150003MD7PX, 150003MD7PX, 150003MD7PX, 150003MD7PX, 150003MD8PX, 150003MD8PX, 150003MD8PX, 150003MD8PX, 150003MD8PX, 150003MD8PX, 150003MD8PX, 150003MD8PX, 150003MD8PX, 150003MD9PX, 150003MD9PX, 150003MD9PX, 150003MD9PX, 150003MD9PX, 150003MD9PX, 150003MD9PX, 150003MD9PX, 150003MD9PX, 150003MD10PX, 150003MD10PX, 150003MD10PX, 150003MD10PX, 150003MD10PX, 150003MD10PX, 150003MD10PX, 150003MD10PX, 150003MD11PX, 150003MD11PX, 150003CD1PX, 150003CD1PX, 150003CD1PX, 150003CD1PX, 150003CD1PX, 150003CD1PX, 150003CD1PX, 150003CD1PX, 150003CD1PX, 150003CD1PX, 150003CD3PX, 150003CD3PX, 150003CD3PX, 150003CD3PX, 150003CD3PX, 150003CD3PX, 150003CD3PX, 150003CD3PX, 150003CD3PX, 150003CD3PX, 150003CD3PX, 150003CD3PX, 150003MD5PX, 150003MD5PX, 150003MD5PX, 150003MD5PX, 150003MD5PX, 150003MD5PX, 150003MD5PX, 150003MD5PX, 150003MD5PX, 150003MD5PX, 150003MD5PX, 150003MD5PX, 150003MD7PX, 150003MD7PX, 150003MD7PX, 150003MD7PX, 150003MD7PX, 150003MD7PX, 150003MD7PX, 150003MD7PX, 150003MD7PX, 150003MD7PX, 150003MD7PX, 150003MD7PX, 150003MD7PX, 150003MD7PX, 150003MD7PX, 150003MD8PX, 150003MD8PX, 150003MD8PX, 150003MD8PX, 150003MD8PX, 150003MD8PX, 150003MD8PX, 150003MD8PX, 150003MD8PX, 150003MD9PX, 150003MD9PX, 150003MD9PX, 150003MD9PX, 150003MD9PX, 150003MD9PX, 150003MD9PX, 150003MD9PX, 150003MD9PX, 150003MD10PX, 150003MD10PX, 150003MD10PX, 150003MD10PX, 150003MD10PX, 150003MD10PX, 150003MD10PX, 150003MD10PX, 150003MD11PX, 150003MD11PX
Header Mandrel Part Numbers
150003CH1PX, 150003CH1PX, 150003CH1PX, 150003CH1PX, 150003CH1PX, 150003CH1PX, 150003CH1PX, 150003CH1PX, 150003CH1PX, 150003CH1PX, 150003CH3PX, 150003CH3PX, 150003CH3PX, 150003CH3PX, 150003CH3PX, 150003CH3PX, 150003CH3PX, 150003CH3PX, 150003CH3PX, 150003CH3PX, 150003CH3PX, 150003CH3PX, 150003MH5PX, 150003MH5PX, 150003MH5PX, 150003MH5PX, 150003MH5PX, 150003MH5PX, 150003MH5PX, 150003MH5PX, 150003MH5PX, 150003MH5PX, 150003MH5PX, 150003MH5PX, 150003MH7PX, 150003MH7PX, 150003MH7PX, 150003MH7PX, 150003MH7PX, 150003MH7PX, 150003MH7PX, 150003MH7PX, 150003MH7PX, 150003MH7PX, 150003MH7PX, 150003MH7PX, 150003MH7PX, 150003MH7PX, 150003MH7PX, 150003MH8PX, 150003MH8PX, 150003MH8PX, 150003MH8PX, 150003MH8PX, 150003MH8PX, 150003MH8PX, 150003MH8PX, 150003MH8PX, 150003MH9PX, 150003MH9X, 150003MH9X, 150003MH9PX, 150003MH9PX, 150003MH9PX, 150003MH9PX, 150003MH9PX, 150003MH9PX, 150003MH10PX, 150003MH10PX, 150003MH10PX, 150003MH10PX, 150003MH10PX, 150003MH10PX, 150003MH10PX, 150003MH10PX, 150003MH11PX, 150003MH11PX, 150003CH1PX, 150003CH1PX, 150003CH1PX, 150003CH1PX, 150003CH1PX, 150003CH1PX, 150003CH1PX, 150003CH1PX, 150003CH1PX, 150003CH1PX, 150003CH3PX, 150003CH3PX, 150003CH3PX, 150003CH3PX, 150003CH3PX, 150003CH3PX, 150003CH3PX, 150003CH3PX, 150003CH3PX, 150003CH3PX, 150003CH3PX, 150003CH3PX, 150003MH5PX, 150003MH5PX, 150003MH5PX, 150003MH5PX, 150003MH5PX, 150003MH5PX, 150003MH5PX, 150003MH5PX, 150003MH5PX, 150003MH5PX, 150003MH5PX, 150003MH5PX, 150003MH7PX, 150003MH7PX, 150003MH7PX, 150003MH7PX, 150003MH7PX, 150003MH7PX, 150003MH7PX, 150003MH7PX, 150003MH7PX, 150003MH7PX, 150003MH7PX, 150003MH7PX, 150003MH7PX, 150003MH7PX, 150003MH7PX, 150003MH8PX, 150003MH8PX, 150003MH8PX, 150003MH8PX, 150003MH8PX, 150003MH8PX, 150003MH8PX, 150003MH8PX, 150003MH8PX, 150003MH9PX, 150003MH9X, 150003MH9X, 150003MH9PX, 150003MH9PX, 150003MH9PX, 150003MH9PX, 150003MH9PX, 150003MH9PX, 150003MH10PX, 150003MH10PX, 150003MH10PX, 150003MH10PX, 150003MH10PX, 150003MH10PX, 150003MH10PX, 150003MH10PX, 150003MH11PX, 150003MH11PX, 150003CH1PX, 150003CH1PX, 150003CH1PX, 150003CH1PX, 150003CH1PX, 150003CH1PX, 150003CH1PX, 150003CH1PX, 150003CH1PX, 150003CH1PX, 150003CH3PX, 150003CH3PX, 150003CH3PX, 150003CH3PX, 150003CH3PX, 150003CH3PX, 150003CH3PX, 150003CH3PX, 150003CH3PX, 150003CH3PX, 150003CH3PX, 150003CH3PX, 150003MH5PX, 150003MH5PX, 150003MH5PX, 150003MH5PX, 150003MH5PX, 150003MH5PX, 150003MH5PX, 150003MH5PX, 150003MH5PX, 150003MH5PX, 150003MH5PX, 150003MH5PX, 150003MH7PX, 150003MH7PX, 150003MH7PX, 150003MH7PX, 150003MH7PX, 150003MH7PX, 150003MH7PX, 150003MH7PX, 150003MH7PX, 150003MH7PX, 150003MH7PX, 150003MH7PX, 150003MH7PX, 150003MH7PX, 150003MH7PX, 150003MH8PX, 150003MH8PX, 150003MH8PX, 150003MH8PX, 150003MH8PX, 150003MH8PX, 150003MH8PX, 150003MH8PX, 150003MH8PX, 150003MH9PX, 150003MH9X, 150003MH9X, 150003MH9PX, 150003MH9PX, 150003MH9PX, 150003MH9PX, 150003MH9PX, 150003MH9PX, 150003MH10PX, 150003MH10PX, 150003MH10PX, 150003MH10PX, 150003MH10PX, 150003MH10PX, 150003MH10PX, 150003MH10PX, 150003MH11PX, 150003MH11PX, 150003CH1PX, 150003CH1PX, 150003CH1PX, 150003CH1PX, 150003CH1PX, 150003CH1PX, 150003CH1PX, 150003CH1PX, 150003CH1PX, 150003CH1PX, 150003CH3PX, 150003CH3PX, 150003CH3PX, 150003CH3PX, 150003CH3PX, 150003CH3PX, 150003CH3PX, 150003CH3PX, 150003CH3PX, 150003CH3PX, 150003CH3PX, 150003CH3PX, 150003MH5PX, 150003MH5PX, 150003MH5PX, 150003MH5PX, 150003MH5PX, 150003MH5PX, 150003MH5PX, 150003MH5PX, 150003MH5PX, 150003MH5PX, 150003MH5PX, 150003MH5PX, 150003MH7PX, 150003MH7PX, 150003MH7PX, 150003MH7PX, 150003MH7PX, 150003MH7PX, 150003MH7PX, 150003MH7PX, 150003MH7PX, 150003MH7PX, 150003MH7PX, 150003MH7PX, 150003MH7PX, 150003MH7PX, 150003MH7PX, 150003MH8PX, 150003MH8PX, 150003MH8PX, 150003MH8PX, 150003MH8PX, 150003MH8PX, 150003MH8PX, 150003MH8PX, 150003MH8PX, 150003MH9PX, 150003MH9X, 150003MH9X, 150003MH9PX, 150003MH9PX, 150003MH9PX, 150003MH9PX, 150003MH9PX, 150003MH9PX, 150003MH10PX, 150003MH10PX, 150003MH10PX, 150003MH10PX, 150003MH10PX, 150003MH10PX, 150003MH10PX, 150003MH10PX, 150003MH11PX, 150003MH11PX, 150003CH1PX, 150003CH1PX, 150003CH1PX, 150003CH1PX, 150003CH1PX, 150003CH1PX, 150003CH1PX, 150003CH1PX, 150003CH1PX, 150003CH1PX, 150003CH3PX, 150003CH3PX, 150003CH3PX, 150003CH3PX, 150003CH3PX, 150003CH3PX, 150003CH3PX, 150003CH3PX, 150003CH3PX, 150003CH3PX, 150003CH3PX, 150003CH3PX, 150003MH5PX, 150003MH5PX, 150003MH5PX, 150003MH5PX, 150003MH5PX, 150003MH5PX, 150003MH5PX, 150003MH5PX, 150003MH5PX, 150003MH5PX, 150003MH5PX, 150003MH5PX, 150003MH7PX, 150003MH7PX, 150003MH7PX, 150003MH7PX, 150003MH7PX, 150003MH7PX, 150003MH7PX, 150003MH7PX, 150003MH7PX, 150003MH7PX, 150003MH7PX, 150003MH7PX, 150003MH7PX, 150003MH7PX, 150003MH7PX, 150003MH8PX, 150003MH8PX, 150003MH8PX, 150003MH8PX, 150003MH8PX, 150003MH8PX, 150003MH8PX, 150003MH8PX, 150003MH8PX, 150003MH9PX, 150003MH9X, 150003MH9X, 150003MH9PX, 150003MH9PX, 150003MH9PX, 150003MH9PX, 150003MH9PX, 150003MH9PX, 150003MH10PX, 150003MH10PX, 150003MH10PX, 150003MH10PX, 150003MH10PX, 150003MH10PX, 150003MH10PX, 150003MH10PX, 150003MH11PX, 150003MH11PX, 150003CH1PX, 150003CH1PX, 150003CH1PX, 150003CH1PX, 150003CH1PX, 150003CH1PX, 150003CH1PX, 150003CH1PX, 150003CH1PX, 150003CH1PX, 150003CH3PX, 150003CH3PX, 150003CH3PX, 150003CH3PX, 150003CH3PX, 150003CH3PX, 150003CH3PX, 150003CH3PX, 150003CH3PX, 150003CH3PX, 150003CH3PX, 150003CH3PX, 150003MH5PX, 150003MH5PX, 150003MH5PX, 150003MH5PX, 150003MH5PX, 150003MH5PX, 150003MH5PX, 150003MH5PX, 150003MH5PX, 150003MH5PX, 150003MH5PX, 150003MH5PX, 150003MH7PX, 150003MH7PX, 150003MH7PX, 150003MH7PX, 150003MH7PX, 150003MH7PX, 150003MH7PX, 150003MH7PX, 150003MH7PX, 150003MH7PX, 150003MH7PX, 150003MH7PX, 150003MH7PX, 150003MH7PX, 150003MH7PX, 150003MH8PX, 150003MH8PX, 150003MH8PX, 150003MH8PX, 150003MH8PX, 150003MH8PX, 150003MH8PX, 150003MH8PX, 150003MH8PX, 150003MH9PX, 150003MH9X, 150003MH9X, 150003MH9PX, 150003MH9PX, 150003MH9PX, 150003MH9PX, 150003MH9PX, 150003MH9PX, 150003MH10PX, 150003MH10PX, 150003MH10PX, 150003MH10PX, 150003MH10PX, 150003MH10PX, 150003MH10PX, 150003MH10PX, 150003MH11PX, 150003MH11PX
Short Mandrel Part Numbers
150003D1, 150003D1, 150003D1, 150003D1, 150003D1, 150003D1, 150003D1, 150003D1, 150003D1, 150003D1, 150003D2, 150003D2, 150003D2, 150003D2, 150003D2, 150003D2, 150003D2, 150003D2, 150003D2, 150003D2, 150003D2, 150003D2, 150003N4, 150003N4, 150003N4, 150003N4, 150003N4, 150003N4, 150003N4, 150003N4, 150003N4, 150003N4, 150003N4, 150003N4, 150003N5, 150003N5, 150003N5, 150003N5, 150003N5, 150003N5, 150003N5, 150003N5, 150003N5, 150003N5, 150003N5, 150003N5, 150003N5, 150003N5, 150003N5, 150003N7, 150003N7, 150003N7, 150003N7, 150003N7, 150003N7, 150003N7, 150003N7, 150003N7, 150003N8, 150003N8, 150003N8, 150003N8, 150003N8, 150003N8, 150003N8, 150003N8, 150003N8, 150003N10, 150003N10, 150003N10, 150003N10, 150003N10, 150003N10, 150003N10, 150003N10, 150003N12, , 150003D1, 150003D1, 150003D1, 150003D1, 150003D1, 150003D1, 150003D1, 150003D1, 150003D1, 150003D1, 150003D2, 150003D2, 150003D2, 150003D2, 150003D2, 150003D2, 150003D2, 150003D2, 150003D2, 150003D2, 150003D2, 150003D2, 150003N4, 150003N4, 150003N4, 150003N4, 150003N4, 150003N4, 150003N4, 150003N4, 150003N4, 150003N4, 150003N4, 150003N4, 150003N5, 150003N5, 150003N5, 150003N5, 150003N5, 150003N5, 150003N5, 150003N5, 150003N5, 150003N5, 150003N5, 150003N5, 150003N5, 150003N5, 150003N5, 150003N7, 150003N7, 150003N7, 150003N7, 150003N7, 150003N7, 150003N7, 150003N7, 150003N7, 150003N8, 150003N8, 150003N8, 150003N8, 150003N8, 150003N8, 150003N8, 150003N8, 150003N8, 150003N10, 150003N10, 150003N10, 150003N10, 150003N10, 150003N10, 150003N10, 150003N10, 150003N12, 150003N12, 150003D1, 150003D1, 150003D1, 150003D1, 150003D1, 150003D1, 150003D1, 150003D1, 150003D1, 150003D1, 150003D2, 150003D2, 150003D2, 150003D2, 150003D2, 150003D2, 150003D2, 150003D2, 150003D2, 150003D2, 150003D2, 150003D2, 150003N4, 150003N4, 150003N4, 150003N4, 150003N4, 150003N4, 150003N4, 150003N4, 150003N4, 150003N4, 150003N4, 150003N4, 150003N5, 150003N5, 150003N5, 150003N5, 150003N5, 150003N5, 150003N5, 150003N5, 150003N5, 150003N5, 150003N5, 150003N5, 150003N5, 150003N5, 150003N5, 150003N7, 150003N7, 150003N7, 150003N7, 150003N7, 150003N7, 150003N7, 150003N7, 150003N7, 150003N8, 150003N8, 150003N8, 150003N8, 150003N8, 150003N8, 150003N8, 150003N8, 150003N8, 150003N10, 150003N10, 150003N10, 150003N10, 150003N10, 150003N10, 150003N10, 150003N10, 150003N12, , 150003D1, 150003D1, 150003D1, 150003D1, 150003D1, 150003D1, 150003D1, 150003D1, 150003D1, 150003D1, 150003D2, 150003D2, 150003D2, 150003D2, 150003D2, 150003D2, 150003D2, 150003D2, 150003D2, 150003D2, 150003D2, 150003D2, 150003N4, 150003N4, 150003N4, 150003N4, 150003N4, 150003N4, 150003N4, 150003N4, 150003N4, 150003N4, 150003N4, 150003N4, 150003N5, 150003N5, 150003N5, 150003N5, 150003N5, 150003N5, 150003N5, 150003N5, 150003N5, 150003N5, 150003N5, 150003N5, 150003N5, 150003N5, 150003N5, 150003N7, 150003N7, 150003N7, 150003N7, 150003N7, 150003N7, 150003N7, 150003N7, 150003N7, 150003N8, 150003N8, 150003N8, 150003N8, 150003N8, 150003N8, 150003N8, 150003N8, 150003N8, 150003N10, 150003N10, 150003N10, 150003N10, 150003N10, 150003N10, 150003N10, 150003N10, 150003N12, , 150003D1, 150003D1, 150003D1, 150003D1, 150003D1, 150003D1, 150003D1, 150003D1, 150003D1, 150003D1, 150003D2, 150003D2, 150003D2, 150003D2, 150003D2, 150003D2, 150003D2, 150003D2, 150003D2, 150003D2, 150003D2, 150003D2, 150003N4, 150003N4, 150003N4, 150003N4, 150003N4, 150003N4, 150003N4, 150003N4, 150003N4, 150003N4, 150003N4, 150003N4, 150003N5, 150003N5, 150003N5, 150003N5, 150003N5, 150003N5, 150003N5, 150003N5, 150003N5, 150003N5, 150003N5, 150003N5, 150003N5, 150003N5, 150003N5, 150003N7, 150003N7, 150003N7, 150003N7, 150003N7, 150003N7, 150003N7, 150003N7, 150003N7, 150003N8, 150003N8, 150003N8, 150003N8, 150003N8, 150003N8, 150003N8, 150003N8, 150003N8, 150003N10, 150003N10, 150003N10, 150003N10, 150003N10, 150003N10, 150003N10, 150003N10, 150003N12, , 150003D1, 150003D1, 150003D1, 150003D1, 150003D1, 150003D1, 150003D1, 150003D1, 150003D1, 150003D1, 150003D2, 150003D2, 150003D2, 150003D2, 150003D2, 150003D2, 150003D2, 150003D2, 150003D2, 150003D2, 150003D2, 150003D2, 150003N4, 150003N4, 150003N4, 150003N4, 150003N4, 150003N4, 150003N4, 150003N4, 150003N4, 150003N4, 150003N4, 150003N4, 150003N5, 150003N5, 150003N5, 150003N5, 150003N5, 150003N5, 150003N5, 150003N5, 150003N5, 150003N5, 150003N5, 150003N5, 150003N5, 150003N5, 150003N5, 150003N7, 150003N7, 150003N7, 150003N7, 150003N7, 150003N7, 150003N7, 150003N7, 150003N7, 150003N8, 150003N8, 150003N8, 150003N8, 150003N8, 150003N8, 150003N8, 150003N8, 150003N8, 150003N10, 150003N10, 150003N10, 150003N10, 150003N10, 150003N10, 150003N10, 150003N10, 150003N12, 150003D2, 150003D2, 150003D2, 150003D2, 150003D2, 150003D2, 150003D2, 150003D2, 150003D2, 150003D2, 150003D3, 150003D3, 150003D3, 150003D3, 150003D3, 150003D3, 150003D3, 150003D3, 150003D3, 150003D3, 150003D3, 150003D3, 150003N5, 150003N5, 150003N5, 150003N5, 150003N5, 150003N5, 150003N5, 150003N5, 150003N5, 150003N5, 150003N5, 150003N5, 150003N6, 150003N6, 150003N6, 150003N6, 150003N6, 150003N6, 150003N6, 150003N6, 150003N6, 150003N6, 150003N6, 150003N6, 150003N6, 150003N6, 150003N6, 150003N8, 150003N8, 150003N8, 150003N8, 150003N8, 150003N8, 150003N8, 150003N8, 150003N8, 150003N9, 150003N9, 150003N9, 150003N9, 150003N9, 150003N9, 150003N9, 150003N9, 150003N9, 150003N11, 150003N11, 150003N11, 150003N11, 150003N11, 150003N11, 150003N11, 150003N11, 150003N13, , 150003D2, 150003D2, 150003D2, 150003D2, 150003D2, 150003D2, 150003D2, 150003D2, 150003D2, 150003D2, 150003D3, 150003D3, 150003D3, 150003D3, 150003D3, 150003D3, 150003D3, 150003D3, 150003D3, 150003D3, 150003D3, 150003D3, 150003N5, 150003N5, 150003N5, 150003N5, 150003N5, 150003N5, 150003N5, 150003N5, 150003N5, 150003N5, 150003N5, 150003N5, 150003N6, 150003N6, 150003N6, 150003N6, 150003N6, 150003N6, 150003N6, 150003N6, 150003N6, 150003N6, 150003N6, 150003N6, 150003N6, 150003N6, 150003N6, 150003N8, 150003N8, 150003N8, 150003N8, 150003N8, 150003N8, 150003N8, 150003N8, 150003N8, 150003N9, 150003N9, 150003N9, 150003N9, 150003N9, 150003N9, 150003N9, 150003N9, 150003N9, 150003N11, 150003N11, 150003N11, 150003N11, 150003N11, 150003N11, 150003N11, 150003N11, 150003N13, 150003N13, 150003D2, 150003D2, 150003D2, 150003D2, 150003D2, 150003D2, 150003D2, 150003D2, 150003D2, 150003D2, 150003D3, 150003D3, 150003D3, 150003D3, 150003D3, 150003D3, 150003D3, 150003D3, 150003D3, 150003D3, 150003D3, 150003D3, 150003N5, 150003N5, 150003N5, 150003N5, 150003N5, 150003N5, 150003N5, 150003N5, 150003N5, 150003N5, 150003N5, 150003N5, 150003N6, 150003N6, 150003N6, 150003N6, 150003N6, 150003N6, 150003N6, 150003N6, 150003N6, 150003N6, 150003N6, 150003N6, 150003N6, 150003N6, 150003N6, 150003N8, 150003N8, 150003N8, 150003N8, 150003N8, 150003N8, 150003N8, 150003N8, 150003N8, 150003N9, 150003N9, 150003N9, 150003N9, 150003N9, 150003N9, 150003N9, 150003N9, 150003N9, 150003N11, 150003N11, 150003N11, 150003N11, 150003N11, 150003N11, 150003N11, 150003N11, 150003N13, , 150003D2, 150003D2, 150003D2, 150003D2, 150003D2, 150003D2, 150003D2, 150003D2, 150003D2, 150003D2, 150003D3, 150003D3, 150003D3, 150003D3, 150003D3, 150003D3, 150003D3, 150003D3, 150003D3, 150003D3, 150003D3, 150003D3, 150003N5, 150003N5, 150003N5, 150003N5, 150003N5, 150003N5, 150003N5, 150003N5, 150003N5, 150003N5, 150003N5, 150003N5, 150003N6, 150003N6, 150003N6, 150003N6, 150003N6, 150003N6, 150003N6, 150003N6, 150003N6, 150003N6, 150003N6, 150003N6, 150003N6, 150003N6, 150003N6, 150003N8, 150003N8, 150003N8, 150003N8, 150003N8, 150003N8, 150003N8, 150003N8, 150003N8, 150003N9, 150003N9, 150003N9, 150003N9, 150003N9, 150003N9, 150003N9, 150003N9, 150003N9, 150003N11, 150003N11, 150003N11, 150003N11, 150003N11, 150003N11, 150003N11, 150003N11, 150003N13, , 150003D2, 150003D2, 150003D2, 150003D2, 150003D2, 150003D2, 150003D2, 150003D2, 150003D2, 150003D2, 150003D3, 150003D3, 150003D3, 150003D3, 150003D3, 150003D3, 150003D3, 150003D3, 150003D3, 150003D3, 150003D3, 150003D3, 150003N5, 150003N5, 150003N5, 150003N5, 150003N5, 150003N5, 150003N5, 150003N5, 150003N5, 150003N5, 150003N5, 150003N5, 150003N6, 150003N6, 150003N6, 150003N6, 150003N6, 150003N6, 150003N6, 150003N6, 150003N6, 150003N6, 150003N6, 150003N6, 150003N6, 150003N6, 150003N6, 150003N8, 150003N8, 150003N8, 150003N8, 150003N8, 150003N8, 150003N8, 150003N8, 150003N8, 150003N9, 150003N9, 150003N9, 150003N9, 150003N9, 150003N9, 150003N9, 150003N9, 150003N9, 150003N11, 150003N11, 150003N11, 150003N11, 150003N11, 150003N11, 150003N11, 150003N11, 150003N13, , 150003D2, 150003D2, 150003D2, 150003D2, 150003D2, 150003D2, 150003D2, 150003D2, 150003D2, 150003D2, 150003D3, 150003D3, 150003D3, 150003D3, 150003D3, 150003D3, 150003D3, 150003D3, 150003D3, 150003D3, 150003D3, 150003D3, 150003N5, 150003N5, 150003N5, 150003N5, 150003N5, 150003N5, 150003N5, 150003N5, 150003N5, 150003N5, 150003N5, 150003N5, 150003N6, 150003N6, 150003N6, 150003N6, 150003N6, 150003N6, 150003N6, 150003N6, 150003N6, 150003N6, 150003N6, 150003N6, 150003N6, 150003N6, 150003N6, 150003N8, 150003N8, 150003N8, 150003N8, 150003N8, 150003N8, 150003N8, 150003N8, 150003N8, 150003N9, 150003N9, 150003N9, 150003N9, 150003N9, 150003N9, 150003N9, 150003N9, 150003N9, 150003N11, 150003N11, 150003N11, 150003N11, 150003N11, 150003N11, 150003N11, 150003N11, 150003N13, 150003D3, 150003D3, 150003D3, 150003D3, 150003D3, 150003D3, 150003D3, 150003D3, 150003D3, 150003D3, 150003D4, 150003D4, 150003D4, 150003D4, 150003D4, 150003D4, 150003D4, 150003D4, 150003D4, 150003D4, 150003D4, 150003D4, 150003N6, 150003N6, 150003N6, 150003N6, 150003N6, 150003N6, 150003N6, 150003N6, 150003N6, 150003N6, 150003N6, 150003N6, 150003N7, 150003N7, 150003N7, 150003N7, 150003N7, 150003N7, 150003N7, 150003N7, 150003N7, 150003N7, 150003N7, 150003N7, 150003N7, 150003N7, 150003N7, 150003N9, 150003N9, 150003N9, 150003N9, 150003N9, 150003N9, 150003N9, 150003N9, 150003N9, 150003N10, 150003N10, 150003N10, 150003N10, 150003N10, 150003N10, 150003N10, 150003N10, 150003N10, 150003N12, 150003N12, 150003N12, 150003N12, 150003N12, 150003N12, 150003N12, 150003N12, 150003N14, , 150003D3, 150003D3, 150003D3, 150003D3, 150003D3, 150003D3, 150003D3, 150003D3, 150003D3, 150003D3, 150003D4, 150003D4, 150003D4, 150003D4, 150003D4, 150003D4, 150003D4, 150003D4, 150003D4, 150003D4, 150003D4, 150003D4, 150003N6, 150003N6, 150003N6, 150003N6, 150003N6, 150003N6, 150003N6, 150003N6, 150003N6, 150003N6, 150003N6, 150003N6, 150003N7, 150003N7, 150003N7, 150003N7, 150003N7, 150003N7, 150003N7, 150003N7, 150003N7, 150003N7, 150003N7, 150003N7, 150003N7, 150003N7, 150003N7, 150003N9, 150003N9, 150003N9, 150003N9, 150003N9, 150003N9, 150003N9, 150003N9, 150003N9, 150003N10, 150003N10, 150003N10, 150003N10, 150003N10, 150003N10, 150003N10, 150003N10, 150003N10, 150003N12, 150003N12, 150003N12, 150003N12, 150003N12, 150003N12, 150003N12, 150003N12, 150003N14, 150003N14, 150003D3, 150003D3, 150003D3, 150003D3, 150003D3, 150003D3, 150003D3, 150003D3, 150003D3, 150003D3, 150003D4, 150003D4, 150003D4, 150003D4, 150003D4, 150003D4, 150003D4, 150003D4, 150003D4, 150003D4, 150003D4, 150003D4, 150003N6, 150003N6, 150003N6, 150003N6, 150003N6, 150003N6, 150003N6, 150003N6, 150003N6, 150003N6, 150003N6, 150003N6, 150003N7, 150003N7, 150003N7, 150003N7, 150003N7, 150003N7, 150003N7, 150003N7, 150003N7, 150003N7, 150003N7, 150003N7, 150003N7, 150003N7, 150003N7, 150003N9, 150003N9, 150003N9, 150003N9, 150003N9, 150003N9, 150003N9, 150003N9, 150003N9, 150003N10, 150003N10, 150003N10, 150003N10, 150003N10, 150003N10, 150003N10, 150003N10, 150003N10, 150003N12, 150003N12, 150003N12, 150003N12, 150003N12, 150003N12, 150003N12, 150003N12, 150003N14, , 150003D3, 150003D3, 150003D3, 150003D3, 150003D3, 150003D3, 150003D3, 150003D3, 150003D3, 150003D3, 150003D4, 150003D4, 150003D4, 150003D4, 150003D4, 150003D4, 150003D4, 150003D4, 150003D4, 150003D4, 150003D4, 150003D4, 150003N6, 150003N6, 150003N6, 150003N6, 150003N6, 150003N6, 150003N6, 150003N6, 150003N6, 150003N6, 150003N6, 150003N6, 150003N7, 150003N7, 150003N7, 150003N7, 150003N7, 150003N7, 150003N7, 150003N7, 150003N7, 150003N7, 150003N7, 150003N7, 150003N7, 150003N7, 150003N7, 150003N9, 150003N9, 150003N9, 150003N9, 150003N9, 150003N9, 150003N9, 150003N9, 150003N9, 150003N10, 150003N10, 150003N10, 150003N10, 150003N10, 150003N10, 150003N10, 150003N10, 150003N10, 150003N12, 150003N12, 150003N12, 150003N12, 150003N12, 150003N12, 150003N12, 150003N12, 150003N14, , 150003D3, 150003D3, 150003D3, 150003D3, 150003D3, 150003D3, 150003D3, 150003D3, 150003D3, 150003D3, 150003D4, 150003D4, 150003D4, 150003D4, 150003D4, 150003D4, 150003D4, 150003D4, 150003D4, 150003D4, 150003D4, 150003D4, 150003N6, 150003N6, 150003N6, 150003N6, 150003N6, 150003N6, 150003N6, 150003N6, 150003N6, 150003N6, 150003N6, 150003N6, 150003N7, 150003N7, 150003N7, 150003N7, 150003N7, 150003N7, 150003N7, 150003N7, 150003N7, 150003N7, 150003N7, 150003N7, 150003N7, 150003N7, 150003N7, 150003N9, 150003N9, 150003N9, 150003N9, 150003N9, 150003N9, 150003N9, 150003N9, 150003N9, 150003N10, 150003N10, 150003N10, 150003N10, 150003N10, 150003N10, 150003N10, 150003N10, 150003N10, 150003N12, 150003N12, 150003N12, 150003N12, 150003N12, 150003N12, 150003N12, 150003N12, 150003N14, , 150003D3, 150003D3, 150003D3, 150003D3, 150003D3, 150003D3, 150003D3, 150003D3, 150003D3, 150003D3, 150003D4, 150003D4, 150003D4, 150003D4, 150003D4, 150003D4, 150003D4, 150003D4, 150003D4, 150003D4, 150003D4, 150003D4, 150003N6, 150003N6, 150003N6, 150003N6, 150003N6, 150003N6, 150003N6, 150003N6, 150003N6, 150003N6, 150003N6, 150003N6, 150003N7, 150003N7, 150003N7, 150003N7, 150003N7, 150003N7, 150003N7, 150003N7, 150003N7, 150003N7, 150003N7, 150003N7, 150003N7, 150003N7, 150003N7, 150003N9, 150003N9, 150003N9, 150003N9, 150003N9, 150003N9, 150003N9, 150003N9, 150003N9, 150003N10, 150003N10, 150003N10, 150003N10, 150003N10, 150003N10, 150003N10, 150003N10, 150003N10, 150003N12, 150003N12, 150003N12, 150003N12, 150003N12, 150003N12, 150003N12, 150003N12, 150003N14, 150003N8, 150003N8, 150003N8, 150003N8, 150003N8, 150003N8, 150003N8, 150003N8, 150003N8, 150003N8, 150003N8, 150003N8, 150003N8, 150003N8, 150003N8, 150003N10, 150003N10, 150003N10, 150003N10, 150003N10, 150003N10, 150003N10, 150003N10, 150003N10, 150003N11, 150003N11, 150003N11, 150003N11, 150003N11, 150003N11, 150003N11, 150003N11, 150003N11, 150003N13, 150003N13, 150003N13, 150003N13, 150003N13, 150003N13, 150003N13, 150003N13, 150003N15, 150003N8, 150003N8, 150003N8, 150003N8, 150003N8, 150003N8, 150003N8, 150003N8, 150003N8, 150003N8, 150003N8, 150003N8, 150003N8, 150003N8, 150003N8, 150003N10, 150003N10, 150003N10, 150003N10, 150003N10, 150003N10, 150003N10, 150003N10, 150003N10, 150003N11, 150003N11, 150003N11, 150003N11, 150003N11, 150003N11, 150003N11, 150003N11, 150003N11, 150003N13, 150003N13, 150003N13, 150003N13, 150003N13, 150003N13, 150003N13, 150003N13, 150003N15, 150003N15, 150003N8, 150003N8, 150003N8, 150003N8, 150003N8, 150003N8, 150003N8, 150003N8, 150003N8, 150003N8, 150003N8, 150003N8, 150003N8, 150003N8, 150003N8, 150003N10, 150003N10, 150003N10, 150003N10, 150003N10, 150003N10, 150003N10, 150003N10, 150003N10, 150003N11, 150003N11, 150003N11, 150003N11, 150003N11, 150003N11, 150003N11, 150003N11, 150003N11, 150003N13, 150003N13, 150003N13, 150003N13, 150003N13, 150003N13, 150003N13, 150003N13, 150003N15, 150003N8, 150003N8, 150003N8, 150003N8, 150003N8, 150003N8, 150003N8, 150003N8, 150003N8, 150003N8, 150003N8, 150003N8, 150003N8, 150003N8, 150003N8, 150003N10, 150003N10, 150003N10, 150003N10, 150003N10, 150003N10, 150003N10, 150003N10, 150003N10, 150003N11, 150003N11, 150003N11, 150003N11, 150003N11, 150003N11, 150003N11, 150003N11, 150003N11, 150003N13, 150003N13, 150003N13, 150003N13, 150003N13, 150003N13, 150003N13, 150003N13, 150003N15, 150003N8, 150003N8, 150003N8, 150003N8, 150003N8, 150003N8, 150003N8, 150003N8, 150003N8, 150003N8, 150003N8, 150003N8, 150003N8, 150003N8, 150003N8, 150003N10, 150003N10, 150003N10, 150003N10, 150003N10, 150003N10, 150003N10, 150003N10, 150003N10, 150003N11, 150003N11, 150003N11, 150003N11, 150003N11, 150003N11, 150003N11, 150003N11, 150003N11, 150003N13, 150003N13, 150003N13, 150003N13, 150003N13, 150003N13, 150003N13, 150003N13, 150003N15, 150003N8, 150003N8, 150003N8, 150003N8, 150003N8, 150003N8, 150003N8, 150003N8, 150003N8, 150003N8, 150003N8, 150003N8, 150003N8, 150003N8, 150003N8, 150003N10, 150003N10, 150003N10, 150003N10, 150003N10, 150003N10, 150003N10, 150003N10, 150003N10, 150003N11, 150003N11, 150003N11, 150003N11, 150003N11, 150003N11, 150003N11, 150003N11, 150003N11, 150003N13, 150003N13, 150003N13, 150003N13, 150003N13, 150003N13, 150003N13, 150003N13, 150003N15, 150003N12, 150003N12, 150003N12, 150003N12, 150003N12, 150003N12, 150003N12, 150003N12, 150003N12, 150003N14, 150003N14, 150003N14, 150003N14, 150003N14, 150003N14, 150003N14, 150003N14, 150003N16, 150003N12, 150003N12, 150003N12, 150003N12, 150003N12, 150003N12, 150003N12, 150003N12, 150003N12, 150003N14, 150003N14, 150003N14, 150003N14, 150003N14, 150003N14, 150003N14, 150003N14, 150003N16, 150003N16, 150003N12, 150003N12, 150003N12, 150003N12, 150003N12, 150003N12, 150003N12, 150003N12, 150003N12, 150003N14, 150003N14, 150003N14, 150003N14, 150003N14, 150003N14, 150003N14, 150003N14, 150003N16, 150003N12, 150003N12, 150003N12, 150003N12, 150003N12, 150003N12, 150003N12, 150003N12, 150003N12, 150003N14, 150003N14, 150003N14, 150003N14, 150003N14, 150003N14, 150003N14, 150003N14, 150003N16, 150003N12, 150003N12, 150003N12, 150003N12, 150003N12, 150003N12, 150003N12, 150003N12, 150003N12, 150003N14, 150003N14, 150003N14, 150003N14, 150003N14, 150003N14, 150003N14, 150003N14, 150003N16, 150003N12, 150003N12, 150003N12, 150003N12, 150003N12, 150003N12, 150003N12, 150003N12, 150003N12, 150003N14, 150003N14, 150003N14, 150003N14, 150003N14, 150003N14, 150003N14, 150003N14, 150003N16
1515-1, 1515-1, 1515-2, 1515-2, 1515-3, 1515-3, 1515-4, 1515-4, 1515-5, 1515-5, 1515-5, 1515-5, 1515-6, 1515-6, 1515-7, 1515-7, 1515-7, 1515-7, 1515-8, 1515-8, 1515-9, 1515-9, 1515-8, 1515-8, 1515-8, 1515-8, 1515-8, 1515-8, 1515-9, 1515-9, 1515-10, 1515-10, 1515-12, 1515-12, 1515-11, 1515-11, 1515-11, 1515-11, 1515-11, 1515-11, 1515-12, 1515-13, 1515-14, 1515-14, 1515-15, 1515-16, 1515-16, 1515-17, 1515-17, 1515-16, 1515-16, 1515-17, 1515-18, 1515-18, 1515-19, 1515-19, 1515-20, 1515-20, 1515-20, 1515-21, 1515-21, 1515-22, 1515-22, 1515-23, 1515-23, 1515-24, 1515-25, 1515-24, 1515-25, 1515-25, 1515-26, 1515-27, 1515-27, 1515-28, 1515-28, 1515-27, 1515-27, 1521-1, 1521-1, 1521-2, 1521-2, 1521-3, 1521-3, 1521-4, 1521-4, 1521-5, 1521-5, 1521-5, 1521-5, 1521-6, 1521-6, 1521-7, 1521-7, 1521-7, 1521-7, 1521-8, 1521-8, 1521-9, 1521-9, 1521-8, 1521-8, 1521-8, 1521-8, 1521-8, 1521-8, 1521-9, 1521-9, 1521-10, 1521-10, 1521-12, 1521-12, 1521-11, 1521-11, 1521-11, 1521-11, 1521-11, 1521-11, 1521-12, 1521-13, 1521-14, 1521-14, 1521-15, 1521-16, 1521-16, 1521-17, 1521-17, 1521-16, 1521-16, 1521-17, 1521-18, 1521-18, 1521-19, 1521-19, 1521-20, 1521-20, 1521-20, 1521-21, 1521-21, 1521-22, 1521-22, 1521-23, 1521-23, 1521-24, 1521-25, 1521-24, 1521-25, 1521-25, 1521-26, 1521-27, 1521-27, 1521-28, 1521-28, 1521-27, 1521-27, 1523-1, 1523-1, 1523-2, 1523-2, 1523-3, 1523-3, 1523-4, 1523-4, 1523-5, 1523-5, 1523-5, 1523-5, 1523-6, 1523-6, 1523-7, 1523-7, 1523-7, 1523-7, 1523-8, 1523-8, 1523-9, 1523-9, 1523-8, 1523-8, 1523-8, 1523-8, 1523-8, 1523-8, 1523-9, 1523-9, 1523-10, 1523-10, 1523-12, 1523-12, 1523-11, 1523-11, 1523-11, 1523-11, 1523-11, 1523-11, 1523-12, 1523-13, 1523-14, 1523-14, 1523-15, 1523-16, 1523-16, 1523-17, 1523-17, 1523-16, 1523-16, 1523-17, 1523-18, 1523-18, 1523-19, 1523-19, 1523-20, 1523-20, 1523-20, 1523-21, 1523-21, 1523-22, 1523-22, 1523-23, 1523-23, 1523-24, 1523-25, 1523-24, 1523-25, 1523-25, 1523-26, 1523-27, 1523-27, 1523-28, 1523-28, 1523-27, 1523-37, 1525-1, 1525-1, 1525-2, 1525-2, 1525-3, 1525-3, 1525-4, 1525-4, 1525-5, 1525-5, 1525-5, 1525-5, 1525-6, 1525-6, 1525-7, 1525-7, 1525-7, 1525-7, 1525-8, 1525-8, 1525-9, 1525-9, 1525-8, 1525-8, 1525-8, 1525-8, 1525-8, 1525-8, 1525-9, 1525-9, 1525-10, 1525-10, 1525-12, 1525-12, 1525-11, 1525-11, 1525-11, 1525-11, 1525-11, 1525-11, 1525-12, 1525-13, 1525-14, 1525-14, 1525-15, 1525-16, 1525-16, 1525-17, 1525-17, 1525-16, 1525-16, 1525-17, 1525-18, 1525-18, 1525-19, 1525-19, 1525-20, 1525-20, 1525-20, 1525-21, 1525-21, 1525-22, 1525-22, 1525-23, 1525-23, 1525-24, 1525-25, 1525-24, 1525-25, 1525-25, 1525-26, 1525-27, 1525-27, 1525-28, 1525-28, 1525-27, 1525-37, 1527-1, 1527-1, 1527-2, 1527-2, 1527-3, 1527-3, 1527-4, 1527-4, 1527-5, 1527-5, 1527-5, 1527-5, 1527-6, 1527-6, 1527-7, 1527-7, 1527-7, 1527-7, 1527-8, 1527-8, 1527-9, 1527-9, 1527-8, 1527-8, 1527-8, 1527-8, 1527-8, 1527-8, 1527-9, 1527-9, 1527-10, 1527-10, 1527-12, 1527-12, 1527-11, 1527-11, 1527-11, 1527-11, 1527-11, 1527-11, 1527-12, 1527-13, 1527-14, 1527-14, 1527-15, 1527-16, 1527-16, 1527-17, 1527-17, 1527-16, 1527-16, 1527-17, 1527-18, 1527-18, 1527-19, 1527-19, 1527-20, 1527-20, 1527-20, 1527-21, 1527-21, 1527-22, 1527-22, 1527-23, 1527-23, 1527-24, 1527-25, 1527-24, 1527-25, 1527-25, 1527-26, 1527-27, 1527-27, 1527-28, 1527-28, 1527-27, 1527-37, 1529-1, 1529-1, 1529-2, 1529-2, 1529-3, 1529-3, 1529-4, 1529-4, 1529-5, 1529-5, 1529-5, 1529-5, 1529-6, 1529-6, 1529-7, 1529-7, 1529-7, 1529-7, 1529-8, 1529-8, 1529-9, 1529-9, 1529-8, 1529-8, 1529-8, 1529-8, 1529-8, 1529-8, 1529-9, 1529-9, 1529-10, 1529-10, 1529-12, 1529-12, 1529-11, 1529-11, 1529-11, 1529-11, 1529-11, 1529-11, 1529-12, 1529-13, 1529-14, 1529-14, 1529-15, 1529-16, 1529-16, 1529-17, 1529-17, 1529-16, 1529-16, 1529-17, 1529-18, 1529-18, 1529-19, 1529-19, 1529-20, 1529-20, 1529-20, 1529-21, 1529-21, 1529-22, 1529-22, 1529-23, 1529-23, 1529-24, 1529-25, 1529-24, 1529-25, 1529-25, 1529-26, 1529-27, 1529-27, 1529-28, 1529-28, 1529-27, 1529-27