Die-Hard™
Cableless Tube Cleaner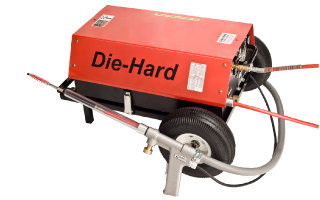 3/4″ & 1″ OD
(19.5 – 25.4mm)
110/1/60 electric, 14 amps
0.5 GPM water consumption
10 pulses/second ~800 PSI
Hydro powered brush actuator
M5801-00 Die-Hard™ Cleaner Package Includes:
Auto-Feed Pump Unit
45ft (13.7m) Auto-Feed Hose, includes Auto-Feed Casing/li>
Trigger Switch Feed Gun Assembly, includes Trigger Switch Feed Gun and 3/4″ (19.1mm) and 1″ (25.4mm) Gun Nozzles
Actuator (0.520″ OD)
Antifreeze with Adapter
3/8″ – 7/16″ Combination Wrenches
Brushes sold separately
Detachable Contractor Dolly
Rocker Style Footswitch
Tool Box Expansion Tray
Antifreeze with Adapter
Trigger Switch Feed Gun
Actuator
Feed Hose: Available in 35ft and 45ft. Other sizes available.
Auto-feed casing
Gun Nozzle: Available in 3/4″ (19.1mm), 7/8″ (22.23mm), and 1″ (25.4mm).
Tube Hole Gauge: 3/4″ and 1″
Spares Kit (M5803-00) Includes:
Five nylon brushes of 20 different sizes for 3/4″ and 1″ tubes, an actuator, and a 0.5 gallon of antifreeze with an adapter- all organized in a toolbox. For 7/8″ applications Elliott offers the M5803-00-875 Spare Brush Kit that includes five nylon brushes of five different sizes.
Tube ID
Brush Diameter
Single Brush
25 Pack
0.530″ – 0.544″
(13.46 – 13.82mm)
0.530″
5535-530
5535-530PK
0.545″ – 0.559″
(13.84 – 14.20mm)
0.545″
5535-545
5535-545PK
0.560″ – 0.572″
(14.22 – 14.53mm)
0.560″
5535-560
5535-560PK
0.573″ – 0.589″
(14.55 – 14.96mm)
0.573″
5535-573
5535-573PK
0.590″ – 0.607″
(14.99 – 15.42mm)
0.590″
5535-590
5535-590PK
0.608″ – 0.624″
(15.44 – 15.85mm)
0.608″
5535-608
5535-608PK
0.625″ – 0.637″
(15.88 – 16.18mm)
0.625″
5535-625
5535-625PK
0.638″ – 0.651″
(16.21 – 16.54mm)
0.638″
5535-638
5535-638PK
0.652″ – 0.665″
(16.56 – 16.89mm)
0.652″
5535-652
5535-652PK
0.666″ – 0.679″
(16.92 – 17.25mm)
0.666″
5535-666
5535-666PK
0.680″ – 0.694″
(17.27 – 17.63mm)
0.680″
5535-680
5535-680PK
0.695″ – 0.709″
(17.65 – 18.01mm)
0.695″
5535-695
5535-695PK
0.740″ – 0.754″
(18.80 – 19.15mm)
0.740″
5535-740
5535-740PK
0.755″ – 0.769″
(19.18 – 19.53mm)
0.755″
5535-755
5535-755PK
0.770″ – 0.784″
(19.56 – 19.91mm)
0.770″
5535-770
5535-770PK
0.785″ – 0.799″
(19.94 – 20.29mm)
0.785″
5535-785
5535-785PK
0.800″ – 0.819″
(20.32 – 20.80mm)
0.800″
5535-800
5535-800PK
0.820″ – 0.839″
(20.83 – 21.31mm)
0.820″
5535-820
5535-820PK
0.840″ – 0.859″
(21.34 – 21.82mm)
0.840″
5535-840
5535-840PK
0.860″ – 0.879″
(21.84 – 22.33mm)
0.860″
5535-860
5535-860PK
0.880″ – 0.899″
(22.35 – 22.83mm)
0.880″
5535-880
5535-880PK
0.900″ – 0.915″
(22.86 – 23.24mm)
0.900″
5535-900
5535-900PK
0.916″ – 0.932″
(23.27 – 23.67mm)
0.916″
5535-916
5535-916PK
0.933″ – 0.943″
(23.70 – 23.95mm)
0.933″
5535-933
5535-933PK
0.944″ – 0.956″
(23.98 – 24.28mm)
0.944″
5535-944
5535-944PK